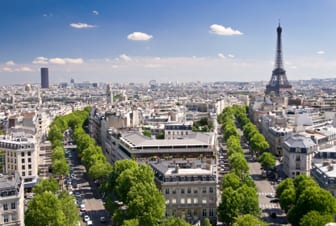 The history of genetically modified organisms (GMOs) in Europe is a stormy one. Prince Charles of England called them the "biggest environmental disaster of all time." A recent poll in Europe found that 60% of respondents considered "Frankencrops" a threat to public health. In 2007, the United States launched a planned retaliation against European countries for refusing to take GMOs into their food chains. In 2009 Monsanto sued Germany because it banned these products.
GMOs are, with greater frequency, being introduced into the agricultural crops of the world and are linked with bee colony collapse, the rise of super weeds, infertility, allergies, and cancer. Europeans are seriously opposed to genetically-modified (GM) products in their shopping cart. But at least, for now, GM foods in Europe are labeled.
Europeans are so opposed to GMOs that Peter Eckes, president of chemical giant BASF (maker of the Amflora GM potato), announced this year that the company is relocating its "Plant Science Division" from Europe to the U.S. because of the "hostility of the European public to GM products" and is "cancelling the development and commercialization of all projects destined solely for the European market" per reports by European newspapers.
After a long and stormy history of continued and active resistance of the citizens, Monsanto announced in 2011 that it will no longer try to sell GMO maize in France despite the decision of the French Court to overturn the ban that was in place.
While the media in the U.S. has "dropped the ball" on informing the public about GMOs, the European press has been very active in alerting European citizens to the health consequences and dangers of GM products. In February 1999 alone, the British Press published over 700 articles on GMOs, according to Jeffrey Smith in Seeds of Deception [1].
The European Union (EU) has in place one of the strictest systems in the world regarding GMOs, requiring extensive testing, labeling, traceability and monitoring of agricultural products [2].
But Monsanto has long arms and bottomless pockets. In 2012 the European Food Safety Association (EFSA) deliberately ignored laws long in place and fast-tracked Monsanto's Intacta GMO soybean for use in food and feed, declaring this soy "substantially equivalent to the natural bean" as does the U.S. Food and Drug Administration (FDA). In this case, no research or allergy testing was required and appropriate monitoring was not put into place, according to the complaint filed by environmental groups and scientists. Independent research has consistently shown that GM products are not substantially equivalent to the traditionally grown crops [1].
The U.S. led the pack with Canada and Argentina, to bring action against the EU and its moratorium against growing GMOs. The bans were declared illegal by the World Trade Organization (WTO) in 2006. The EU lifted the general ban but the individual countries (States) belonging to the EU were having none of it.
The EU has approved many GM crops but it is up to individual states to allow the use of those products or ban them, according to a law passed by the European Parliament in 2011. According to the website, www.gmo-free-regions.org, eight EU member states — Austria, Hungary, France, Greece, Germany, Poland, Luxembourg and Romania — banned the cultivation of GMO maize in their territories. Hungary and Poland ban the sale of any GMO seeds. Italy, as well as Switzerland, has a ban on the cultivation of all GMO crops. Ireland declared itself "gmo free" in 2005; but legislation in that country has yet to be implemented. Serbia, an aspiring EU member, in 2009 declared the country "gmo free."
Under the Florence Charter—in Slovenia, Croatia and other countries—specific communities have declared themselves "gmo free"; in Germany, 198 regions, 235 municipalities, and 29,836 farmers officially want no GMOs.
But GMOs are popular in Spain which maintains large fields of GM products, the only EU country to do so. According to the British newspaper, The Guardian, "WikiLeaks" revealed that Spain and the U.S. worked closely together to "persuade the EU not to strengthen biotechnology laws."
The current President of the European Commission, controversial Jose Barroso who is a strong supporter of GMOs and was responsible for the recent illegal approvals of the GMO potato and Intacta soybeans, has been working to undermine current law and regulations on GMOs. He is actively lobbying to lift the EU 'zero tolerance' policy on GMO imports which states that imported food or feed material cannot contain trace amounts of GMO substances. Introducing these unlabeled products into the European food chain from the U.S. and Canada would make it impossible for Europeans to make informed buying decisions, thus diluting the current EU labeling laws on GMOs.
Barroso's new Chief Scientific Advisor, Anne Glover, was appointed in 2011 and is a staunch supporter of GMOs. She was a professor at the University of Aberdeen in Scotland and held an honorary position at the Rowett Research Institute—heavily invested in by the biotech industry—when the leadership at Rowett tried to destroy the career of Dr. Arpad Pusztai, whose research established the damaging effects of GMOs after he led one of the very few detailed GM animal studies ever conducted.
Glover recently told Eur Activ Online News, "There is no substantiated case of any adverse impact [of GMOs] on human health, animal health or environmental health, so that's pretty robust evidence. I would be confident in saying that there is no more risk in eating GMO food than eating conventionally farmed food."
Confident? Sound familiar? The population of Europe staunchly rejects GMOs despite the current governments' pro-GMO stance. Government can approve them but how to force European people and animals to eat them is yet to be determined.
—————————-
Genetic Roulette: The Gamble of Our Lives
, is highly recommended and a "must-see" for all people out there, especially those with children (also available in print).
Seeds of Deception is also available in both paperback and hardback.
These are available at www.SeedsofDeception.com or by telephone 1-888-717-7000.
References
1. Smith, J.M. Seeds of Deception: Exposing Industry and Government Lies about the Safety of the Genetically Engineered Foods You're Eating. Fairfield: Yes Books. 2003.
2. Davison, John. "GM plants: Science, politics and EC regulations". Plant Science, Vol. 178, Issue 2, Feb. 2010, pp. 94-98 [DOI:10.1016/j.plantsci.2009.12.005]