In The Raw Milk Revolution, David E. Gumpert describes the efforts of state and federal agencies responding to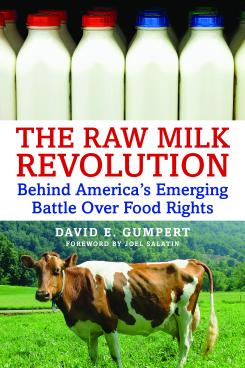 what seems like a simple question: Should American citizens be allowed the personal freedom to choose to drink raw milk?
America was founded on individual liberty. We take pride in the right to make a decision, whether fully informed or not, accepting the risks, and believing that benefits outweigh any dangers. However, when it comes to choosing what we want to consume, that liberty is consistently challenged. Choosing what we put in our bodies should be of the most personal of decisions. We should have ultimate control over our consumption, but what Gumpert has shown us in The Raw Milk Revolution is a government that tries to control all aspects of food production and consumption.
The Raw Milk Revolution begins with a forward by America's favorite farmer, Joel Salatin. An especially impactful passage from Joel's forward describes our current state of American food culture:
"Isn't it curious that at this juncture in our culture's evolution, we collectively believe Twinkies, Lucky Charms and Coca-Cola are safe foods, but compost-grown organic tomatoes and raw milk are not?"
Beginning in 2006, the agriculture departments of Michigan, California, New York, Ohio, and Pennsylvania, with backing by the U.S. Food and Drug Administration, launched a major crackdown on small dairies producing raw milk. The campaign outlined three goals in their strike against raw milk producers: to discover pathogens in raw milk, to use the discovered findings to warn Americans of raw milk consumption, and to discourage dairies from switching to raw milk production in response to the increased demand. This crackdown against raw milk producers in 2006 actually laid the foundation for the creation of the Farm-to-Consumer Legal Defense Fund (FTCLDF).
The Raw Milk Revolution is told through the eyes of milk producers, government regulators, scientists, prosecutors, and consumers. Gumpert graphically describes the climate of the government's tough and sometimes brutal intimidation tactics, including unannounced raids, undercover agents, stings, suspect test-lab results, mysterious illnesses, propaganda, and grand jury investigations. It is a disturbing story using problematic investigation techniques and often using young, sick children as political pawns.
The federal government and regulators claim that raw milk poses a public health threat, citing the dangers of salmonella, E. coli O157:H7, and listeria. Gumpert explains to readers that the illnesses often contributed to raw milk are not conclusive, and in many cases, especially when listeria was supposedly found in samples, no one actually became sick. So where is the public health threat? Prior to the Industrial Revolution, raw milk was the norm. During the boom of the Industrial Revolution, people began to move to cities, and the animals went with them. The conditions where cows were confined were deplorable, sanitation was not practiced, and the cows were being fed grain refuse from whiskey distilleries leading to an increase in the rate of foodborne illnesses. Thus the practice of pasteurizing milk began, and in 1973 the federal government required that any milk that was used in interstate commerce be pasteurized. And it worked; illnesses decreased.
Even today, I would not dare to drink raw milk if it was the product of a cow in a concentrated animal feeding operation (CAFO). CAFOs are awful, for multiple reasons, which could be an entirely different post. The goal of the real food movement is for our food system to move away from that industrial model of production. The raw milk that people are seeking today is the product of responsible farmers who are raising their animals on pasture and take sanitation and humane animal treatment very seriously. These are the kinds of establishments that should be supported by the authorities, not criminalized.
The Raw Milk Revolution was published in 2009, and at that time 29 states allowed some form of on- or off- farm raw milk sales. As of 2017, 43 states allowed some form of raw milk sales. The states are responding to an increase in demand but producers are still facing legal challenges. In some states, the legal hoops producers and consumers must jump through make raw milk difficult to obtain. New legislation at the state level is still being proposed to regulate raw milk consumption, often times through the regulation of herd shares—like in Virginia. On the flip side, the climate of conventional dairy farming in the U.S. is very grim. Many small family dairies are shutting down because conventional milk prices have dropped so low. The outlook on conventional milk prices is so bleak that Cabot Creamery, a cooperative of many smaller farms, has begun offering mental health resources to their farmers. While demand for raw milk is increasing and because farmers can often charge higher prices, raw milk should be considered by farmers as a way to increase profit.
The intimidation tactics, threats, raids and unjust treatment of farmers that Gumpert describes are unfortunately consistent with many government agents in their handling of small agricultural enterprises. The government agents' first order of business is oftentimes shutting down the very industries they are meant to regulate, like the DATCP in Wisconsin. The government's aggressive behavior is a symptom of the threat they are feeling as people are seeking alternatives to the conventional, government supported food model where prices are controlled. People want to exercise their right of individual liberty, and choose where their food comes from, how it was produced, and how it ends up on their plates. The debate over raw milk is not one of public health—that is a scapegoat. It is about control and is representative of much larger issues in relation to food freedom.
Gumpert sums it up well:
"The controversy over raw milk relates to a number of larger issues in the American food climate: the vast changes that have occurred in American agriculture, specifically the way in which our food is produced and distributed on an industrial scale; and the growing concerns over explosive rates of chronic disease, highly publicized outbreaks of foodborne illness, and increasing government involvement and regulation of the foods we eat, as well as the forms in which we are allowed to purchase and consume them. The story of the government's campaign against a nearly forgotten basic food reveals a public policy born of fear and misinformation—one that promises to affect the lives of many millions of Americans."
We all need to keep pressing forward because our food freedom community is making gains in the food freedom movement. Consumers are demanding more, and farmers are responding; it is time the government does the same.
Additional Resources on Raw Milk:
Top 10 Herd Share Questions Answered
A Campaign for Real Milk
Raw Milk vs. Pasteurized: Whats the Difference?
February FTCLDF Book Club Book
Letter to a Young Farmer: How to Live Richly without Wealth on the New Garden Farm
by Gene Logsdon
Click HERE to buy Letter to a Young Farmer.
Disclosure: Please note that the above link is an affiliate link. At no additional cost to you, Farm-to-Consumer Legal Defense Fund will earn a small commission if you make a purchase via the above link.
YOUR FUND AT WORK
Services provided by FTCLDF go beyond legal representation for members in court cases.
Educational and policy work also provide an avenue for FTCLDF to build grassroots activism to create the most favorable regulatory climate possible. In addition to advising on bill language, FTCLDF supports favorable legislation via action alerts and social media outreach.
You can help FTCLDF by becoming a member or donating today.


Anyone wanting to make a contribution to support the work of FTCLDF can make a donation or find out more info HERE.