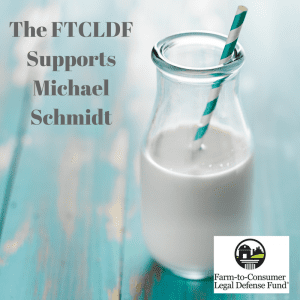 Michael Schmidt is a Canadian farmer and food freedom activist who has been fighting to sell raw milk for 24 years. Schmidt, an owner of Glencolton Farms along with 150 other families, have been subjected to the all-too-familiar harassment and interference that characterizes some government agencies' enforcement against raw milk producers.
Schmidt lost his most recent battle and has been sentenced to serve 60 days in jail. The sentencing stems from an October 2015 raid of Glencolton Farms when owners of the farm, neighbors, and food freedom activists stood peacefully in opposition to government agents as they tried to confiscate food and equipment from the property. Schmidt and three other farm members were charged with obstructing justice. Judge R. Menard considers Schmidt's behavior "a serious matter," and delivered the sentencing as a notice to the public that they must obey by the "rule of law."
The Farm-to-Consumer Legal Defense Fund fully supports Schmidt's consumption and distribution of raw milk as a fresh, nutrient-dense food and opposes the sentencing declared by Judge Menard. The province of Ontario and local government have been prosecuting Schmidt since 1994 for his raw milk production, wasting millions of dollars of taxpayers' money. The federal ban on raw milk is ineffective as thousands of otherwise law-abiding consumers violate the bans each week as demand grows.
"It would have been so simple 24 years ago to say, 'Michael, let's sit down. Figure this out. Here are our guidelines for that. They would have saved millions of dollars. The process to go through, the punishment, the never-ending trials, the ridiculous charges, and then probably a strange sentencing. I don't know what they will come up with, but I don't really care. I think it's pretty stubborn behavior of public officials. There are so many things you can look at like, the opioid crisis," stated Schmidt.
We commend Michael Schmidt for his tireless commitment to producing and increasing access to raw milk despite the efforts of the Canadian government to interfere at every step. It is disheartening that a farmer whose only goal is to provide healthy food for his community will be spending the next 15 weekends in a Canadian jail. Judge Menard's heavy-handed approach may have the opposite effect of what was intended. Instead of conceding to fear and intimidation, Schmidt's supporters and others will instead be energized to demand increased food freedom and raw milk's legality.
YOUR FUND AT WORK

Services provided by FTCLDF go beyond legal representation for members in court cases.
Educational and policy work also provide an avenue for FTCLDF to build grassroots activism to create the most favorable regulatory climate possible. In addition to advising on bill language, FTCLDF supports favorable legislation via action alerts, social media outreach, and the online petition service.
You can help FTCLDF by becoming a member or donating today.


Anyone wanting to make a contribution to support the work of FTCLDF can make a
donation online
or send a check to:
FTCLDF
8116 Arlington Blvd, # 263
Falls Church, VA 22042
Prefer to make a tax-deductible donation? Donate online here.
You may also contact us by email at [email protected] or call 703-208-FARM (3276). Thanks for your support.