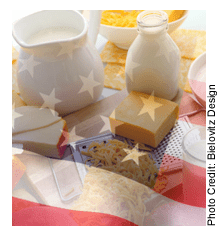 Learn how you can make your own cheese at home
December 8, 2012 – Saturday 11 a.m. to 3 p.m.
Grazin' Acres Farm Pantry
South 6145 Hwy 23
Loganville, WI 53943
Suggested Donation is $50 per person
Register Online Now! or call 1-608-727-2904
Seating is limited so please register as soon as possible.
All Proceeds Benefit Legal Defense of Vernon Hershberger
Class by the Lensmire Family
During the class cheddar cheese curds will be made and you will receive handouts (instructions) on how to make cheese curds, feta, and soft cheese at home.
There will also be a section on making Kefir and there will be grains available for you to take home. The Lensmire Family will also have a soft goat cheese and some feta cheese for tasting during class.
After the class there will be an auction of aged feta cheese.
Download the Flyer
Event sponsored by the Jefferson/Waukeshaw Chapter of the Weston A. Price Foundation

Help Vernon Hershberger Stand Up for Private Contract Rights

Video posted December 10, 2011 by therawmilkparty on YouTube
Wisconsin organic dairy farmer Vernon Hershberger, a peaceful Christian husband and father of 10 children, is being treated as a criminal by the State of Wisconsin.
Veteran trial attorney Glenn Reynolds has agreed to join Farm-to-Consumer Legal Defense Fund Vice-President Elizabeth Rich in representing Vernon Hershberger at the farmer's upcoming criminal trial in Sauk County, Wisconsin.
Hershberger has been charged on four criminal misdemeanor counts for alleged violations of the state food and dairy code. His trial is scheduled to start January 7 and has been slated to run for five days.
Click here to view previous posts with details on charges against Vernon