Podcast with Mark Baker by Pete Kennedy, Esq.
Episode 2 of the Food Rights Hour podcast is an interview with Mark Baker, who is the face of the opposition to the Michigan Swine Invasive Species Order (ISO). On April 1st, 2012, an ISO went into effect in Michigan that outlawed the possession of prohibited swine. Mark Baker and three other individuals have filed a lawsuit challenging the constitutionality of the ISO, in which livelihoods of hundreds of heritage breed hog farmers are threatened.
The views and opinions expressed in this podcast are those of the speaker(s) and not those of the Farm-to-Consumer Legal Defense Fund.
What is the Invasive Species Order (ISO)? What are considered prohibited swine in the ISO? Is there a feral pig problem in Michigan? Is there a possible link between the ISO and Monsanto? What lies ahead for hog farmers in Michigan and throughout the nation? How can listeners help? Listen to the podcast and find out!
This interview was originally recorded in August 2012.
About the Guest
Mark Baker is a retired Air Force veteran who raises the heritage breed Mangalitsa pigs on his farm, Baker's Green Acres, in Marion, Michigan.
Extras
Read Pete Kennedy's articles on the topic, Michigan DNR Going Hog Wild and Michigan Swine ISO Still Threatens Heritage Breeds.
Online Petition – Fax Your Message to Gov. Snyder
Tell Michigan Gov. Snyder to Rescind swine ISO and stop the unjust slaughter of heritage breeds in Michigan & potentially nationwide. Let him know that removing former DNR Director Rodney Stokes will not make this issue go away quietly. Already sent a fax? Please send again; the Michigan governor needs to hear from everyone again. Go to farmtoconsumer.org/rescind-iso
Watch the youtube video that went viral:
Baker's Green Acres vs. Michigan DNR – Family Farm Under Attack

Watch other videos posted by BakersGreenAcres
More on the Michigan swine ISO issue

Questions or comments about this episode of the Food Rights Hour Podcast?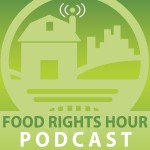 Please email [email protected], and we will be glad to respond to you via email or even on a future podcast.
Listen to other recordings of the Food Rights Hour
*Subscribe in iTunes: it's free! When you subscribe to our podcast in iTunes, your computer will automatically download new episodes of the Food Rights Hour Podcast to your Libraries folder on your computer so that you can listen at your leisure or upload them to your mp3 player by simply plugging in your mp3 player and opening iTunes.
Trouble downloading the podcast? If using Internet Explorer, right click the "Download Podcast" button once and select "Save Target As", or try using Mozilla Firefox as your web browser.