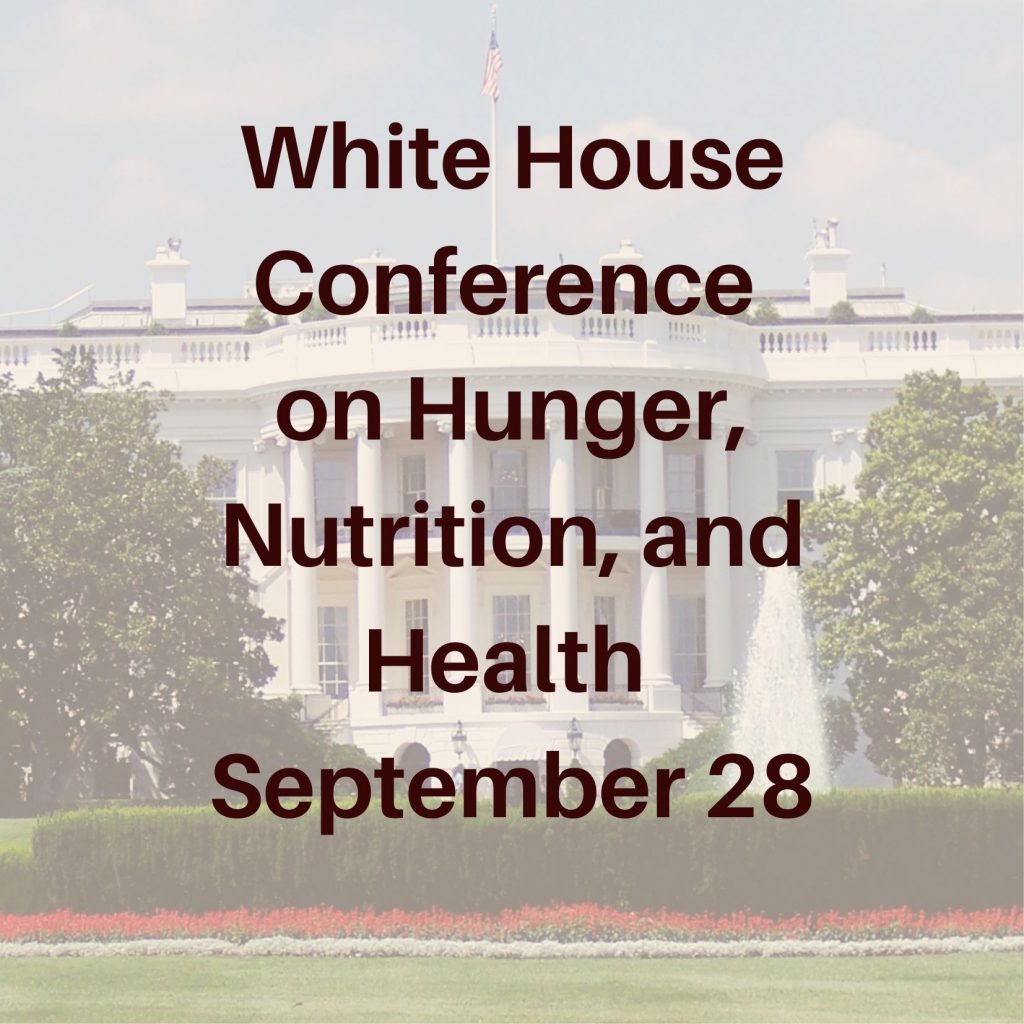 For the first time in over 50 years, the White House is hosting a food and hunger conference with the goal of devising strategies to "end hunger and increase healthy eating and physical activity by 2030, so that fewer Americans experience diet-related diseases like diabetes, obesity, and hypertension." The last such conference, held in 1969, helped lead to changes in food labeling, and the creation of the Supplemental Nutrition Program for Women, Infants and Children (WIC), as well as the school lunch program. 
The current effort brought stakeholders together from many public and private sectors in listening sessions in the months leading up to the conference to share their ideas and stories about how to address hunger and reduce diet-related diseases. Anti-hunger and nutrition advocates, food companies, the health care community, and local, state, territory, and tribal governments have all participated in stakeholder "listening" sessions as have members of the public who have experienced the impact of hunger, heart disease, or hypertension first-hand.
The conference on September 28th (which can be accessed virtually) will continue the work begun in these listening sessions. Information collected from stakeholders in relation to the five pillars below is being used to develop a national strategy that will be announced at the conference:
Improve food access and affordability.
Integrate nutrition and health.
Empower all consumers to make and have access to healthy choices.
Support physical activity for all.
Enhance nutrition and food security research.
Farm-to-Consumer Legal Defense Fund (FTCLDF) members and followers have a unique insight into the many benefits of food grown and produced locally on land supported by sustainable agricultural practices. We understand how vital it is that our national food system expands beyond industrial food to include healthy and accessible choices to help every community across the country.
We also have a deep understanding of the many financial, regulatory, land access, and other challenges small and medium producers face that often prevent them from being a key player in national hunger and nutrition solutions. Therefore, our members and followers—whether independent farmers, homesteaders, artisanal food producers, or consumers—are well positioned to join the conversation and encourage regulatory and legislative reform and other solutions that will allow local producers to realize their potential to be key agents in shaping a robust local food system that supports many of the same goals this conference seeks to further.
Details about the conference and how you can join are here. If you are interested in hosting a satellite event, the White House offers a toolkit here with details to help you.
YOUR FUND AT WORK
Services provided by FTCLDF go beyond legal representation for members in court cases.
Educational and policy work also provide an avenue for FTCLDF to build grassroots activism to create the most favorable regulatory climate possible. In addition to advising on bill language, FTCLDF supports favorable legislation via action alerts and social media outreach.
You can protect access to real foods from small farms by becoming a member or donating today.