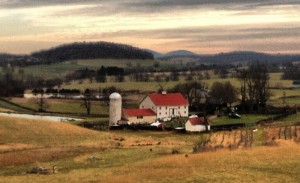 Photo courtesy of Martha Boneta
On January 9 Delegate Scott Lingamfelter introduced House Bill 1430 in the Virginia General Assembly to amend the State Right to Farm Act. HB 1430 is being called the Boneta Bill after Farm-to-Consumer Legal Defense Fund member and Fauquier County farmer Martha Boneta of Paris Barns at Historic Liberty Farm. Last year Fauquier County officials threatened Boneta with thousands of dollars in fines for allegedly selling items not produced on her farm without a permit, selling non-agricultural items, and holding and advertising the use of her farm for special events and activities without obtaining a permit. HB 1430 clarifies and expands what products can be sold and what activities can be conducted on a farm.
The Boneta Bill provides that the "commerce of farm-to-business and farm-to-consumer sales" are included in the Virginia Right to Farm Act; current law is silent on the sale of agricultural products, only stating that their production is covered under the Act. The bill expands income opportunities for farmers by amending the Act to cover the sale of non-food, value-added, farm-produced goods (e.g., farm crafts, soap, candles,wool-woven items) and the sale of items incidental to the agricultural operation such as art, literature, furniture and beverages, as long as sales of the incidental items are less than 50% of total farm revenue. The intent of the bill is also to include activities Boneta was having on the farm (e.g., educational workshops and other special events) under the Act.
In a press conference for HB 1430 Joel Salatin remarked "anyone desiring to preserve farms must preserve farmers first. Encouraging profitable farmers is the cornerstone of farmland preservation." The Boneta Bill is an opportunity to increase farm freedom and revenues, strengthening rural communities and local food systems in the process.
Click here to receive periodic updates from Del. Lingamfelter's on the bill's progress. See more details below.
The bill has been referred to the House Committee on Agriculture, Chesapeake and Natural Resources. Supporters of HB 1430 are encouraged to contact the committee members below asking them to support the bill. Agriculture Subcommittee members are Delegates D.W. Marshall (Chairman), Robert Orrock, Charles Poindexter, Barry Knight, Will Morefield, Matthew James and Mark Sickles.
For your convenience, to send emails to the entire committee, you may copy/paste the list below:
"Beverly Sherwood" <[email protected]>, "David Bulova" <[email protected]>, "James Edmunds" <[email protected]>, "Matt Fariss" <[email protected]>, "Matthew James" <[email protected]>, "Mark Keam" <[email protected]>, "Barry Knight" <[email protected]>, "Lynwood Lewis" <[email protected]>, "Danny Marshall" <[email protected]>, "Will Morefield" <[email protected]>, "Robert Orrock" <[email protected]>, "Ken Plum" <[email protected]>, "Brenda Pogge" <[email protected]>, "Charles Poindexter" <[email protected]>, "Margaret Ransone" <[email protected]>, "Ed Scott" <[email protected]>, "Mark Sickles" <[email protected]>, "Luke Torian" <[email protected]>, "Lee Ware" <[email protected]>, "Michael Webert" <[email protected]>, "Tony Wilt" <[email protected] >"Tommy Wright" <[email protected]>
Text of the Boneta Bill (HB 1430) as introduced in the Virginia General Assembly, 1/9/2013
"Delegate Scott Lingamfelter Introduces "The Boneta Bill" In Response To Property Rights Infringements By Government", 2 Jan. 2013 press release by Friends of Scott Lingamfelter
Receive periodic updates as House Bill 1430 moves through the Virginia General Assembly; click here to sign up
Details about HB 1430 can be found at the following websites:
Virginia's Legislative Information System (http://lis.virginia.gov/)
Richmond Sunlight (www.richmondsunlight.com), tracking Virginia's General Assembly since 2007
12/20/12: HB 1430 referred to the House Committee on Agriculture, Chesapeake and Natural Resources
02/04/13: HB 1430 passed in the House, [77 yea; 22 nay; 1 abstention]
02/05/13: HB 1430 assigned to the Senate Committee on Agriculture, Conservation and Natural Resources