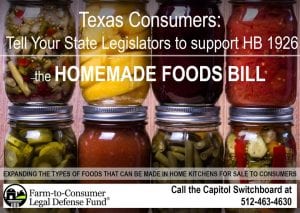 STATE ACTION ALERT
Before 2011, it was illegal to sell any food that had been made in your home kitchen. The Cottage Foods Bill changed that, legalizing sales of specific, low-risk foods prepared in home kitchens directly to consumers, with an annual sales cap. A Forbes Magazine article estimated that more than 1,000 new businesses were created in just the first three years of the new law.
However, the limitations on what can be produced and where the food can be sold limit the cottage food law's usefulness for many farmers and food producers. The Homemade Food Bill, sponsored by Representative Eddie Rodriguez, creates a new option that addresses concerns about the risks of the food and expanded distribution, while expanding opportunities for home production.
HB 1926 allows home preparation of previously disallowed foods such as tamales, canned vegetables, fermented foods, and perishable (potentially hazardous) baked goods. Sales would be allowed anywhere in the state, including through mail order and internet sales, as long as the producer and consumer are both in Texas.
This means that farmers who have unsold vegetables at the end of a farmers market may can those vegetables for sale to their customers. And home bakers can work with grocery stores or other retail outlets to sell their goods. Passage of HB 1926 could be a huge boost for small businesses.
To address food safety concerns, home processors would be subject to regulatory provisions including requirements for:
Inspection by the state or local health department.
Food safety training for personnel and preventing individuals from handling food while ill.
Basic sanitation measures, such as keeping food for sale separate from that for personal use; cleaning surfaces, utensils, and equipment; and maintaining foods at safe temperatures.
Labeling of ingredients and a notification that the food was prepared in a home kitchen.
Ensuring that safe recipes are used for low-acid canned foods, acidified canned foods, and fermented foods.
The bill benefits not only producers, but consumers, who receive improved access to healthy, locally produced foods. The bill does not change the Cottage Food Law; people would have the option of becoming a cottage food producer or a home processor, depending on which fit their needs best.
Read the entire text of HB 1926 here.
Take Action #1
Call or email your State Representative to urge him or her to support HB 1926 and help move the bill forward. A phone call has the greatest impact and allows you to find out if they supported the cottage foods bill in 2013 (if they were in office). Remember to keep the conversation polite and to-the-point.
You can find out who your State Representative is by going to www.fyi.legis.state.tx.us or calling the Texas Capitol Switchboard at 512-463-4630.
If you call after hours, you can simply leave a message:
"Hi, my name is ____, and I am a constituent. I am calling to urge Representative ______ to co-author HB 1926, the Homemade Foods Bill, and to help the bill move forward as quickly as possible. I would like to know where my Representative stands on this issue, please. You can call me back at _________."
If you prefer email, your Representative's email address is simply [email protected]
Take Action #2
HB 1926 has been assigned to the House Public Health Committee. If you live in the district of one of the Committee members (listed after the sample talking points), please take the time for a personal call and be sure to mention that you're a constituent—and get as many of your friends and neighbors to call and email as possible! Constituents carry the most weight with the Committee members.
Sample Talking Points
• The Homemade Foods Bill enables aspiring food producers to start up their businesses without the expense of a commercial kitchen, which can cost $40,000 or more. It enables people to have a small, home-based business with limited overhead, whether they are a farmer interested in using their excess produce for canned goods, a stay at home mom with a talent for baking, someone caring for a disabled relative who can't manage outside work, or any of the other numerous small business people who would benefit from this bill.
• Several other states have similar bills, and there have been no reports of significant outbreaks resulting from them.
• The same groups that are opposing HB 1926 also opposed the cottage foods law and predicted dire results—yet there have been no reported illnesses from any Texas cottage food operation in the 6 years since it was first passed.
Members of the House Public Health Committee
Chairman Four Price (Amarillo and parts of the Panhandle: Carson, Hutchinson, Moore, Potter, Sherman counties)
512-463-0470
[email protected]
Diana Arevalo (part of Bexar County: Zip Codes 78201, 78207, 78228, 78229, 78230, 78240, 78249)
512-463-0616
[email protected]
Cindy Burkett (Rep. Burkett has joint-authored the bill – so, say "thank you!")
(part of Dallas County: Zip Codes 75040, 75041, 75043, 75088, 75089, 75149, 75150, 75159, 75180, 75181, 75182, 75253)
512-463-0464
[email protected]
Garnet Coleman (part of Harris County: Zip Codes 77002, 77003, 77004, 77006, 77007, 77010, 77019, 77021, 77033, 77048, 77061, 77075, 77087, 77089, 77098)
512-463-0524
[email protected]
Nicole Collier (part of Tarrant County: Zip Codes 76012, 76102, 76103, 76104, 76105, 76107, 76110, 76111, 76112, 7615, 76119, 76120, 76133, 76134, 76140)
512-463-0716
[email protected]
Philip Cortez (part of Bexar County: Zip Codes 78002, 78006, 78023, 78039, 78052, 78073, 78211, 78224, 78226, 78227, 78236, 78242, 78245, 78251, 78252, 78253, 78254, 78255)
512-463-0269
[email protected]
Bobby Guerra (part of Hidalgo County: Zip Codes 78501, 78503, 78504, 78539, 78572, 78573, 78574, 78577)
512-463-0578
[email protected]
Stephanie Klick (part of Tarrant County: Zip Codes 76053, 76117, 76118, 76137, 76148, 76180, 76182, 76244)
Phone: 512-463-0599
[email protected]
Tom Oliverson (part of Harris County: Zip Codes 77065, 77070, 77375, 77377, 77379, 77429, 77433, 77447, 77484)
512-463-0661
[email protected]
J.D. Sheffield (Comanche, Coryell, Erath, Hamilton, McCulloch, Mills, San Saba, and Somervell counties)
512-463-0628
[email protected]
Bill Zedler (part of Tarrant County: Zip Codes 76001, 76002, 76017, 76028, 76036, 76060, 76063, 76123, 76134, 76140)
512-463-0374
[email protected]