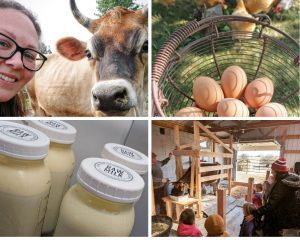 The first Monday of each month is Member Monday where we feature member photos or a video on our Instagram and Facebook pages. Farm-to-Consumer Legal Defense Fund (FTCLDF) is proud of our members, and we take great pleasure in highlighting their operations and the awesome work they are conducting in sustainable farming, animal husbandry, artisanal production, and homesteading. See above for September's member photos!
Agora Farm
Happy Member Monday! Today we are featuring Agora Farm in Kansas!
Agora Farm is a small regenerative homestead run by Shawna and Kelly Childers nestled in the gentle rolling hills of Jefferson County in northeast Kansas. Agora Farm produces A2 raw milk, pastured eggs, and beef.
The Childers moved from the city in 2022 to live closer to nature and their food sources. They wanted to raise their children in a more natural environment that offers opportunities for hands-on experience with livestock and gardening. The Childers are passionate about health and have been buying raw milk for years. The pair had the dream of having their own family milk cow and chickens and searched for land for a long time away from conventional crop fields, and found it nestled among the gentle rolling hills north of the Kaw Valley.
They are still new farmers with a lot to learn, they say, but are challenging themselves by learning how to steward the animals and the land as holistically and regeneratively as possible. The cows and chickens are rotationally grazed and supplemented with high quality, organic feed. The Childers research heavily and take a lot of care to make sure that the decisions they make for their animals and family are well-informed and that they make sense biologically and spiritually.
We've consulted with FTCLDF a couple times and we joined so that we could have the legal support of an organization that understood our principles and would fight to help us maintain our natural way of life." – Shawna Childers
The Childers are a home birthing, homeschooling family and are big advocates of connecting with their community in nature. Shawna organizes nature and educational field trips for their local homeschool groups. Agora Farm offers field trips to the farm for families or groups who want to have a farm experience milking the cow, moving the chickens, collecting eggs, and doing other farm chores.
They also design and sell fun t-shirts that center around their passions for farming, homeschooling, home birth and natural living.
For more information about Agora Farm:
Website: www.agorafarmks.com
Instagram: www.instagram.com/agorafarmks
Cute farming/homeschooling/natural living shirts: agorafarmks.printify.me/products
Membership
Thank you to all of our wonderful members! We are membership-based and couldn't do the work we do without you! Learn more about membership here.
If you're a member and would like to share your photos/videos with our readers/followers, email [email protected] for more details.
YOUR FUND AT WORK
Services provided by FTCLDF go beyond legal representation for members in court cases.
Educational and policy work also provide an avenue for FTCLDF to build grassroots activism to create the most favorable regulatory climate possible. In addition to advising on bill language, FTCLDF supports favorable legislation via action alerts and social media outreach.
You can protect access to real foods from small farms by becoming a member or donating today.