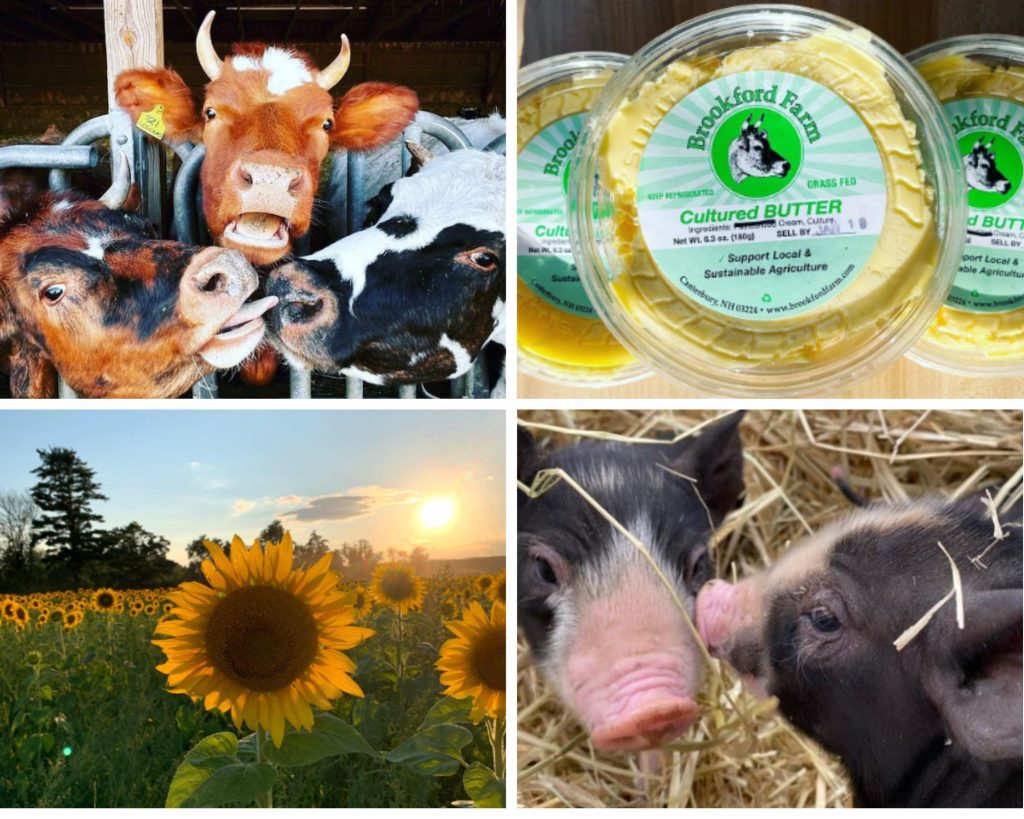 The first Monday of each month is Member Monday where we feature member photos or a video on our Instagram and Facebook pages. Farm-to-Consumer Legal Defense Fund (FTCLDF) is proud of our members, and we take great pleasure in highlighting their operations and the awesome work they are conducting in sustainable farming, animal husbandry, artisanal production, and homesteading. See above for August's member photos!
Brookford Farm
Happy Member Monday! Today we are featuring Brookford Farm in New Hampshire!
Catarina and Luke Mahoney own and operate Brookford Farm in Canterbury, New Hampshire. They met at a farm near St. Petersburg, Russia in the fall of 1999. The Mahoneys have been learning and practicing organic and biodynamic farming on a variety of farms in Russia, Germany, and the United States.
In January 2007, the Mahoney family moved with their two sons to Brookford Farm. With access to 200 acres of grass and their prior experience, they knew that dairy was exactly where they wanted to begin. Early on, they shipped milk to Organic Valley and sold a small amount of raw milk and cream on the side. The local market for their bottled raw milk and other dairy products grew and in the spring of 2010, they decided to step away from the cooperative to direct market their products. Noticing a local demand for good food in the area, the Mahoneys also began producing pastured meats, eggs, and vegetables.
With the help of Gary and Meg Hirshberg, New Hampshire Community Loan Fund, and family and friends, the Mahoneys found a permanent home for their farm in Canterbury, New Hampshire. In 2012, Brookford Farm moved its entire operation and staff to the new 613-acre site.
At Brookford Farm, they believe that their focus on the soil and well-being of plants and animals will have a positive effect on the health and well-being of the people who eat the food and the community who experiences the farming activities. The Mahoneys strongly value land in a fruitful state for future generations to utilize and believe deeply in organic methods that make the earth a better place for their children. They believe that in diversified farming, all areas of production have symbiotic relationships with other production areas.
The farm produces organic vegetables, raw milk, farmstead cheeses, cultured dairy, 100% grass fed and pasture raised meat, eggs, and raw fermented vegetables. Brookford Farm also boasts a year-round CSA and a farm store open seven days a week. Brookford Farm is an open place for people to visit and learn. They host a handful of public events over the course of the year. They believe strongly that people need to know more about where their food comes from, and they invite the curious to explore Brookford Farm firsthand.
Find out more about Brookford Farm:
www.instagram.com/brookfordfarm
www.facebook.com/brookfordfarmnh
Membership
Thank you to all of our wonderful members! We are membership-based and couldn't do the work we do without you! Learn more about membership here.
If you're a member and would like to share your photos/videos with our readers/followers, email [email protected] for more details.
YOUR FUND AT WORK
Services provided by FTCLDF go beyond legal representation for members in court cases.
Educational and policy work also provide an avenue for FTCLDF to build grassroots activism to create the most favorable regulatory climate possible. In addition to advising on bill language, FTCLDF supports favorable legislation via action alerts and social media outreach.
You can protect access to real foods from small farms by becoming a member or donating today.