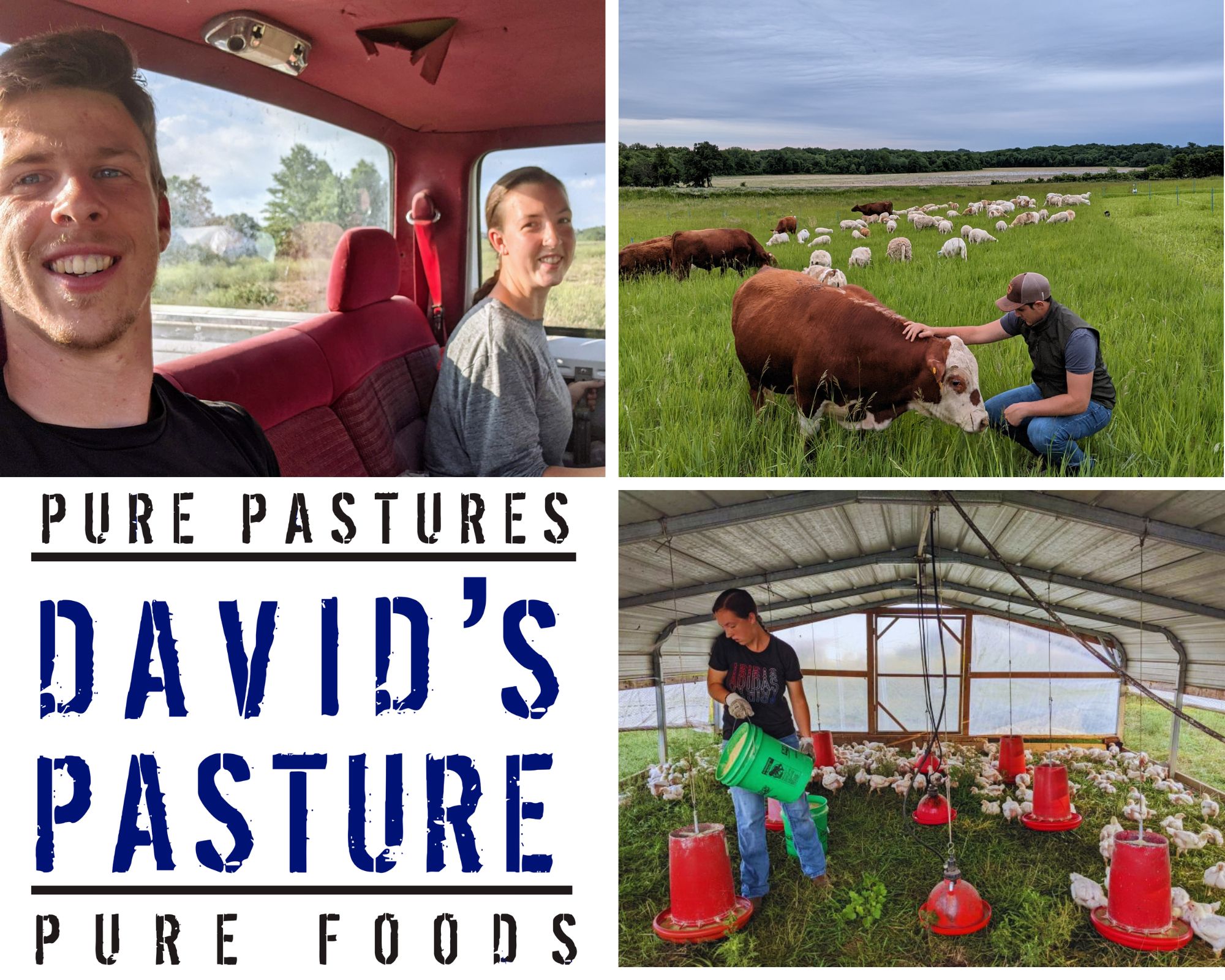 The first Monday of each month is Member Monday where we feature member photos or a video on our Instagram and Facebook pages. Farm-to-Consumer Legal Defense Fund (FTCLDF) is proud of our members, and we take great pleasure in highlighting their operations and the awesome work they are conducting in sustainable farming, animal husbandry, artisanal production, and homesteading. See above for May's member photos!
David's Pasture
Happy Member Monday!
Today we are featuring David's Pasture in Missouri!
David's Pasture is a community-based. family-run farm in Concordia, Mo. that began in 2011 and continues strong today, providing for families in the Midwest. The founders, David and Kim Kesten, started David's Pasture after growing tired of corporate America and the lies in our food system. They started with a single batch of chickens and slowly grew the business over time.
Remi and Kaitlyn Kesten are owners of the farm. Together, they manage all aspects of poultry and pig care, as well as orders, farm events, and customer experience. Remi was 11 when his parents started the farming adventure. In 2019, his parents moved back to their hometown, but he stayed to run the farm.
Other valued team members include John and Amber Cox (beef production), Dave Pratt (delivery), and Cameron Cox (farm hand). The Kestens have a passion for regeneration, community sustainability, caring for creation, and serving others. They offer GMO-free and pasture-raised meats, eggs, seasonal produce plus tours, farm dinners, and farm-to-door deliveries in the Kansas City area and to most central states through UPS.
Visit them online, or on FB and Instagram.

Membership
Thank you to all of our wonderful members! We are membership-based and couldn't do the work we do without you! Learn more about membership here.
If you're a member and would like to share your photos with us, email [email protected] for more details.
YOUR FUND AT WORK
Services provided by FTCLDF go beyond legal representation for members in court cases.
Educational and policy work also provide an avenue for FTCLDF to build grassroots activism to create the most favorable regulatory climate possible. In addition to advising on bill language, FTCLDF supports favorable legislation via action alerts and social media outreach.
You can protect access to real foods from small farms by becoming a member or donating today.