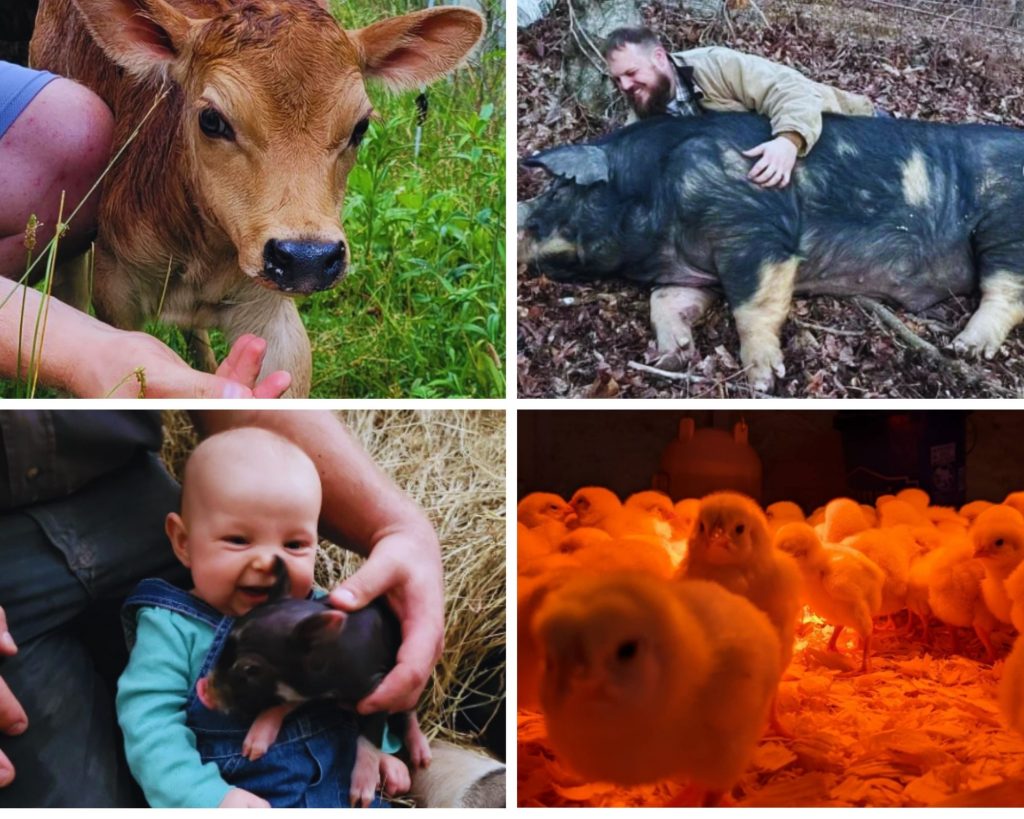 The first Monday of each month is Member Monday where we feature member photos or a video on our Instagram and Facebook pages. Farm-to-Consumer Legal Defense Fund (FTCLDF) is proud of our members, and we take great pleasure in highlighting their operations and the awesome work they are conducting in sustainable farming, animal husbandry, artisanal production, and homesteading. See above for April's member photos!
Race Family Farm
The Race Family Farmstead was established in 2020. An opportunity arose and the Race family moved to East Tennessee with a vision of starting up a farm to provide the community with a local source of healthy food including farm fresh eggs, pastured poultry, pork, and grass-fed beef. Nick Race is the farmer running the first generation Farmstead, centered on regenerative agriculture and permaculture practices. He creates and maintains a healthy agroecosystem and takes care of the land to set the foundation that allows nature and the livestock to thrive. The farmstead is home to Berkshire pigs, a variety of egg-laying chickens, Cornish Cross chickens, and two Great Pyrenees livestock guardian dogs! All livestock are rotationally grazed. Additionally, no antibiotics, medications, hormones, chemicals, pesticides, or fertilizers are used, providing the cleanest and most natural food products.
Nick was born and raised in a small town in Massachusetts, where he served his community through the fire department and emergency services. Growing up in a rural environment, Nick also learned about the invaluable benefits that nature and the land have to offer. Leaving his agricultural roots behind, he pursued a degree in fire science and worked as an Emergency Medicine Technician (EMT). Through his experiences as an EMT, he learned that healthy foods equal healthy people. He quickly realized that he wanted to be the source of that healthy food while continuing to serve the community. His dream became a reality and the Race Family Farmstead was born.
Find out more at:
racefamilyfarmstead.com
www.instagram.com/race_farmstead
Membership
Thank you to all of our wonderful members! We are membership-based and couldn't do the work we do without you! Learn more about membership here.
If you're a member and would like to share your photos with us, email [email protected] for more details.
YOUR FUND AT WORK
Services provided by FTCLDF go beyond legal representation for members in court cases.
Educational and policy work also provide an avenue for FTCLDF to build grassroots activism to create the most favorable regulatory climate possible. In addition to advising on bill language, FTCLDF supports favorable legislation via action alerts and social media outreach.
You can protect access to real foods from small farms by becoming a member or donating today.