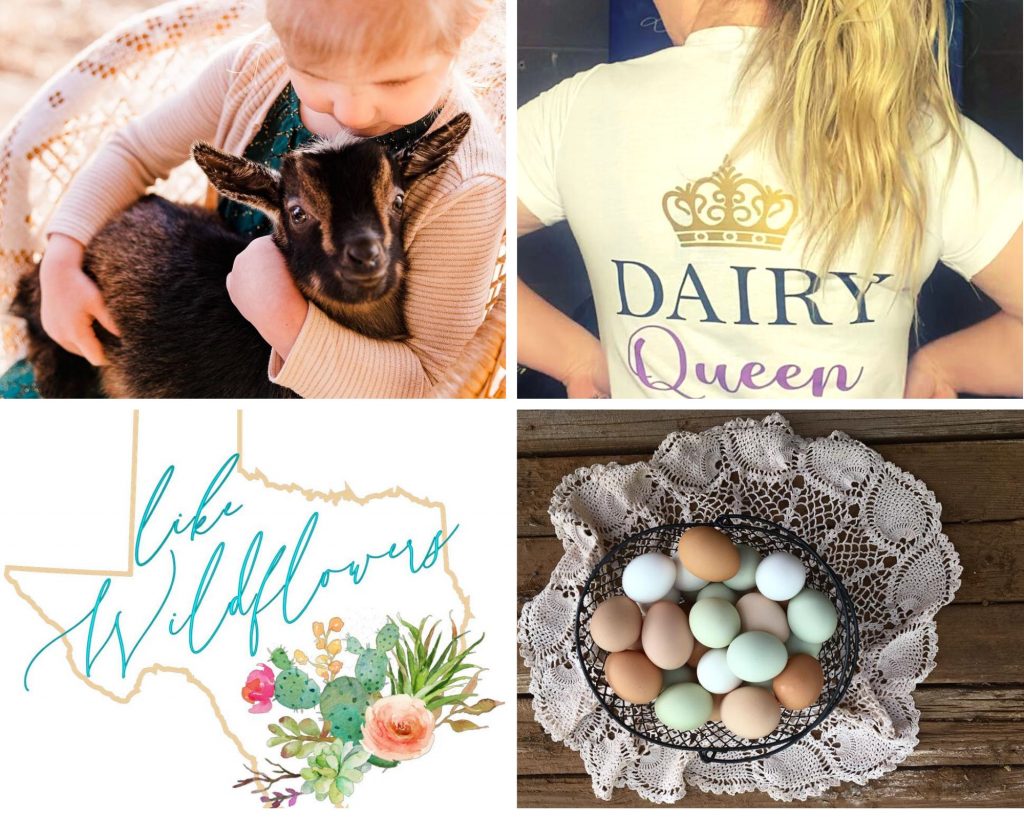 The first Monday of each month is Member Monday where we feature member photos or a video on our Instagram and Facebook pages. Farm-to-Consumer Legal Defense Fund (FTCLDF) is proud of our members, and we take great pleasure in highlighting their operations and the awesome work they are conducting in sustainable farming, animal husbandry, artisanal production, and homesteading. See below for February's member photos!
Like Wildflowers Homestead
Jacy Vaughn owns Like Wild Flowers Homestead in Lamesa, Texas. The young Texan was an animal lover from the start and began riding horses when she was just 8 years old. She competed in playdays, 4-H, high school rodeo, and exhibited pigs all while working as a veterinarian technician at a vet clinic. Around this time Jacy started powerlifting and bought her first chickens to help cut cost on her high egg consumption. And as everyone knows, chickens are the gateway to homesteading!
Then, on a whim, Jacy bought two goats from a friend for $50 and she fell in love with them. She now has an American Dairy Goat Association (ADGA) Plus herd and is doing her best to breed beautiful and productive goats for families and performance homesteads.
In addition to specializing in ADGA registered Nigerian dwarf goats for milk and show, she also manages herdshares for both raw goat milk and raw A2 cow milk, and sells eggs as well as made-from-scratch goat milk products like soaps and scrubs.
"I'm Jacy Vaughn with Like Wild Flowers Homestead. I joined Farm-to-Consumer Legal Defense Fund last year when I needed help navigating raw milk laws in Texas. Not only did they help me understand the laws, they even helped me come up with contracts for my herdshares. They're so quick and easy to work with, and it really is such a relief knowing someone has my back who knows these laws inside and out. If you'd like to help improve our food system, please consider joining or donating today."
– Jacy Vaughn, Farmer Member
Find out more at:
www.likewildflowershomestead.com
www.facebook.com/likewildflowershomestead
www.instagram.com/likewildflowershomestead
Membership
Thank you to all of our wonderful members! We are membership-based and couldn't do the work we do without you! Learn more about membership here.
If you're a member and would like to share your photos with us, email [email protected] for more details.
YOUR FUND AT WORK
Services provided by FTCLDF go beyond legal representation for members in court cases.
Educational and policy work also provide an avenue for FTCLDF to build grassroots activism to create the most favorable regulatory climate possible. In addition to advising on bill language, FTCLDF supports favorable legislation via action alerts and social media outreach.
You can protect access to real foods from small farms by becoming a member or donating today.