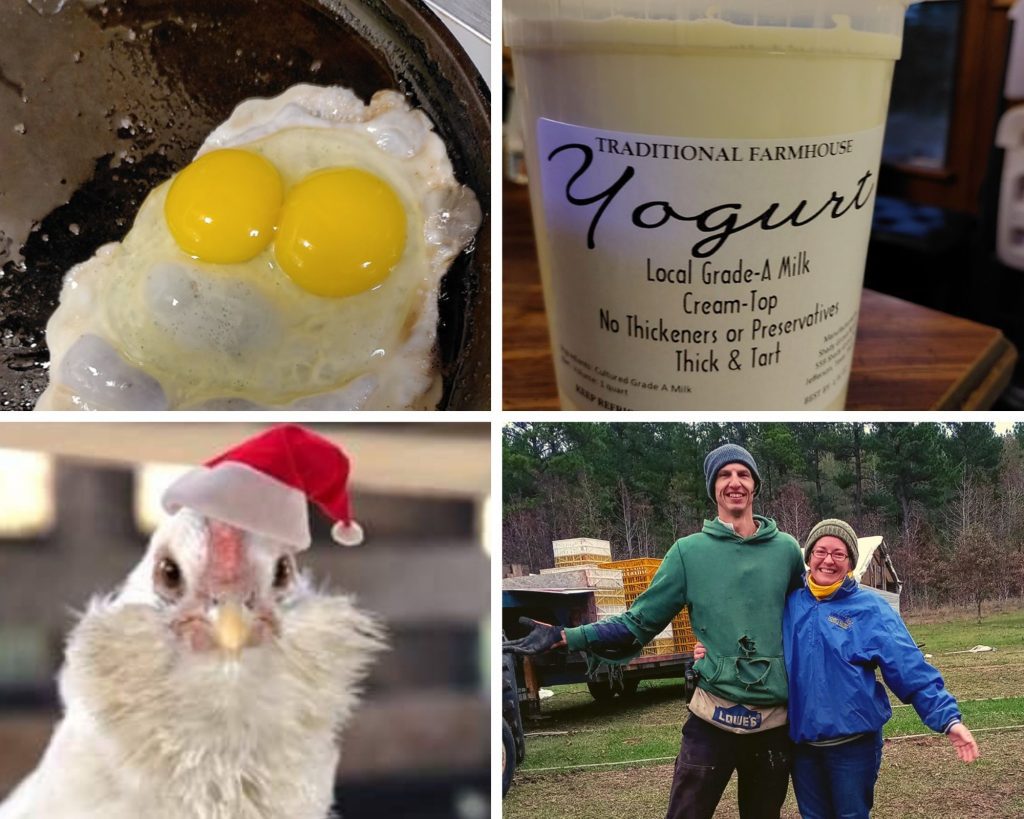 The first Monday of each month is Member Monday where we feature member photos or a video on our Instagram and Facebook pages. Farm-to-Consumer Legal Defense Fund (FTCLDF) is proud of our members, and we take great pleasure in highlighting their operations and the awesome work they are conducting in sustainable farming, animal husbandry, artisanal production, and homesteading. See below for December's member photos!
Shady Grove Ranch
Shady Grove Ranch is owned and operated by Matt and Jerica Cadman in Jefferson, Texas. This family-run farm is dedicated to producing truly natural and healthy meats using rotational grazing practices while avoiding the use of genetically-engineered feeds, subtherapeutic drugs, and icky additives to feed, the processing line, and the final packaged product.
Why do they farm this way? It all started around the time Matt and Jerica met when they both studied engineering in college. During college, Matt was diagnosed with ulcerative colitis, a chronic, so-called incurable autoimmune disease of the intestine, and was able to keep it in moderate remission for a number of years, but had to be very careful about the things he ate, still not really understanding that this remission was likely temporary and drug-induced. Then Matt was hospitalized with a terrible flare-up of his disease that debilitated him. After Matt's strength returned, the Cadmans married and Matt faithfully continued to take his pills and follow doctors' orders, eating his prescribed low-nutrient, highly-processed diet.
Then he had another flare-up that severely debilitated him again, which lead the Cadmans to implement traditional eating principles based on the work of Dr. Weston A. Price. The foods Dr. Price prized as most healthy have only recently fallen out of favor with the rise of industrialized agriculture and food processing. Foods like real mineral salt, raw milk, yogurt, fermented foods, organ meats, bone broth, cod liver oil, probiotics, and grass-fed animal fats like lard, butter, and tallow. They strove to move away from commercially processed foods with all the additives shoved in and nutrients processed out, and instead move toward the real, sustainable farm-raised foods that their great, great, great grand-parents ate.
But it was hard for them to find the right kinds of foods raised in the right way in East Texas. The Cadmans had a passion to help others struggling with autoimmune disease, so they decided to use their engineering training to become full-time grass-farmers. In 2010, Jerica and Matt along with Matt's parents and Jerica's mother all teamed up in various ways to begin growing healing foods for East Texans and North Louisianians. To their community, they now sell pastured beef, pork, chicken, turkey, and eggs. They run a Facebook group where they educate consumers with tips, recipes, and time- and money-saving advice about how to implement real food.
Photo collage: double yolker frying eggs, fresh yogurt, chicken wearing Santa hat, the farmers Matt and Jerica
Find out more about Shady Grove Ranch at:
shadygroveranch.net
www.facebook.com/shadygroveranch
Membership
Thank you to all of our wonderful members! We are membership-based and couldn't do the work we do without you! Learn more about membership here.
If you're a member and would like to share your photos with us, email [email protected] for more details.
YOUR FUND AT WORK
Services provided by FTCLDF go beyond legal representation for members in court cases.
Educational and policy work also provide an avenue for FTCLDF to build grassroots activism to create the most favorable regulatory climate possible. In addition to advising on bill language, FTCLDF supports favorable legislation via action alerts and social media outreach.
You can protect access to real foods from small farms by becoming a member or donating today.