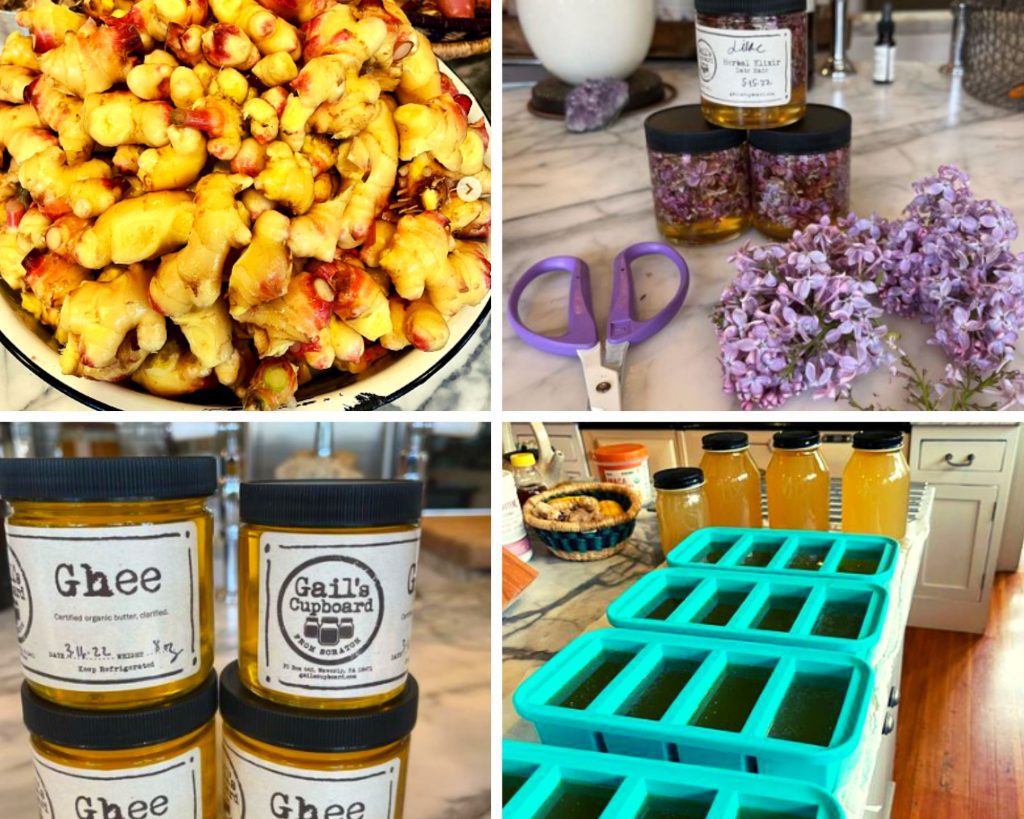 The first Monday of each month is Member Monday where we feature member photos or a video on our Instagram and Facebook pages. Farm-to-Consumer Legal Defense Fund (FTCLDF) is proud of our members, and we take great pleasure in highlighting their operations and the awesome work they are conducting in sustainable farming, animal husbandry, artisanal production, and homesteading. See below for November's member photos!
Gail's Cupboard
Gail Weinberger is the owner of Gail's Cupboard LLC, which she established in 2012. Operating out of Gail's home in her gorgeous certified kitchen, Gail's Cupboard has since become a hub for the local food movement in Northeastern Pennsylvania and has provided nutrient-dense food to her community. Gail is a health coach and received her training from the Institute for Integrative Nutrition's cutting-edge Health Coach Training Program. During her training she studied over 100 dietary theories and innovative coaching methods with some of the world's top health and wellness experts, including Dr. Andrew Weil and Dr. Deepak Chopra.
After 7 years of holistic health counseling, Gail became frustrated with the lack of quality food available to her clients and customers looking for healthy alternatives. Gail sprouted the idea of Gail's Cupboard as an effort to provide the local community with nutrient dense, traditional foods sourced from local, organic, and fair-trade businesses, using all certified organic and fair trade ingredients whenever possible. All other ingredients for her products are grown using organic practices by Gail herself or local farmers. She believes in teaching people how to use food as medicine. Gail's Cupboard products include elderberry syrup, beet kvass, calendula lip balm, tallow lotion, kombucha, sprouted maple granola, various fermented foods, and more.
Photo collage: ghee, young ginger, lilac syrup, chicken bone broth
Find out more about Gail and her businesses at:
www.gailscupboard.com (Get 15% off through November 15 with discount code FARMFUND15)
www.facebook.com/gailscupboard
www.instagram.com/gailscupboard
www.holistichealthandwellness.net
If you're an FTCLDF member and you'd like to learn more about Gail's Cupboard, some of the legal hoops she's jumped through, and cottage foods, check out our Members-Only webinar: Food Laws for Canners, Bakers, and Cottage Food Makers, available on the Member Resources page very soon (username is your email address). Gail was our member speaker.
Membership
Thank you to all of our wonderful members! We are membership-based and couldn't do the work we do without you! Learn more about membership here.
If you're a member and would like to share your photos with us, email [email protected] for more details.
YOUR FUND AT WORK
Services provided by FTCLDF go beyond legal representation for members in court cases.
Educational and policy work also provide an avenue for FTCLDF to build grassroots activism to create the most favorable regulatory climate possible. In addition to advising on bill language, FTCLDF supports favorable legislation via action alerts and social media outreach.
You can protect access to real foods from small farms by becoming a member or donating today.