Every Monday is Member Photo Monday where we feature a member photo on our Instagram and Facebook pages. Farm-to-Consumer Legal Defense Fund (FTCLDF) is proud of our members, and we take great pleasure in highlighting their operations and the awesome work they are conducting in sustainable farming, animal husbandry, artisanal production, and homesteading. See below for a roundup of May's member photos!
A & A Acres
Ashley and Aaron Baradell run a small pasture-based family farm called A & A Acres in Loranger, Louisiana. They produce whole chicken broilers and cuts, chicken eggs, duck eggs, and breads. They moved their family to Loranger a couple years ago in search of a slower-paced life than the big city could provide. After researching the living conditions of most supermarket poultry, they decided to raise their own. Their flock of laying hens produce large pastured eggs with deep golden yolks. The flock is free ranged on a protected quarter acre at a time and eats feed from a local co-op, sunflower seeds, mealworms, garlic, oregano, molasses, sea kelp, and more. Their broiler chickens (pictured) are moved every day to fresh grass in moveable tractors. They process them on farm and strive for them to only experience one bad day. Their laying ducks produce extra large eggs, ideal for baking. The ducks live on pasture and ponds. Duck eggs are higher in protein and have more nutrients than chicken eggs, plus many people with egg allergies can usually eat duck eggs with no ill effects.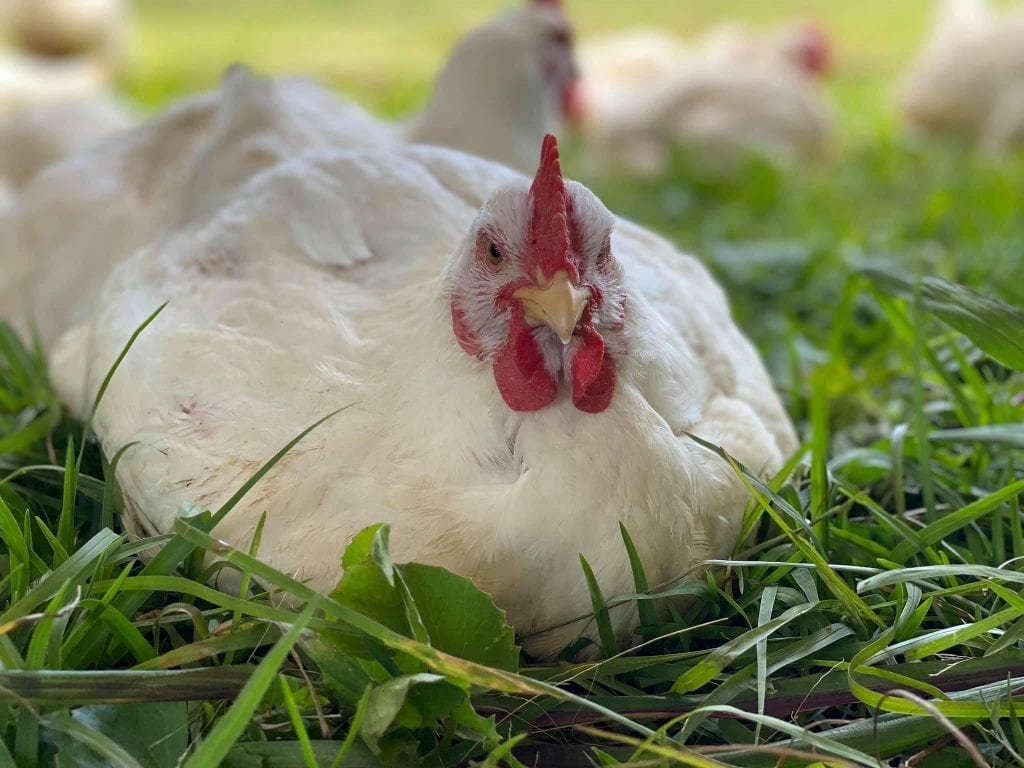 Copia Farm
Caitlin Bergman and Daniel McLeod run Copia Farm in Johnstown, Ohio. Before starting the farm, they were concerned eaters and shopped at the local health food stores, but still had health issues. Caitlin and Daniel dedicated themselves to veganism, vegetarianism, and the other latest health trends, but still lacked vitality. Then the pair learned about the food system through books like Michael Pollan's The Omnivore's Dilemma and started questioning everything they were eating. They realized that the key was eating real food from the small farm and embarked on a decade-long mission to generate the most nourishing food imaginable. Today, they are thriving and produce pasture-raised, nutrient-dense foods for a wide community of folks in the Midwest. Daniel and Caitlin offer raw milk herdshares, pastured eggs, pasture-raised meats, organic sourdough bread, veggies, and fermented foods all available at their farmstand which is open 365 days a year.

Innisfree on the Stillwater
Innisfree on the Stillwater is a 185-acre certified organic farm in Miami County, Ohio run by Dennis and Keba Hitzeman. The land has been farmed since the early 1800s and the current farm was purchased by Keba's parents in 1968 as a bare patch of industrial tilled ground. Now the land is 100 acres of organic tillage and dozens of acres of woods and sustainable pasture. The Hitzemans raise grass-fed heritage Shetland wool sheep, Kinder goats, a motley crew of free-ranging chickens, and organic corn and hay. They encourage wild areas that provide habitat and food for animals and pollinators. The flock of natural colored Shetland sheep provides wool that is available as raw fleeces, roving for spinners, and hand-spun yarns at StudioAtInnisFree.com. All of the wool is hand-sheared by Keba, then processed into roving at a local fiber mill, and hand-spun by Keba at the farm. North American Shetland Sheepbreeders Association registered Shetlands are occasionally available for sale.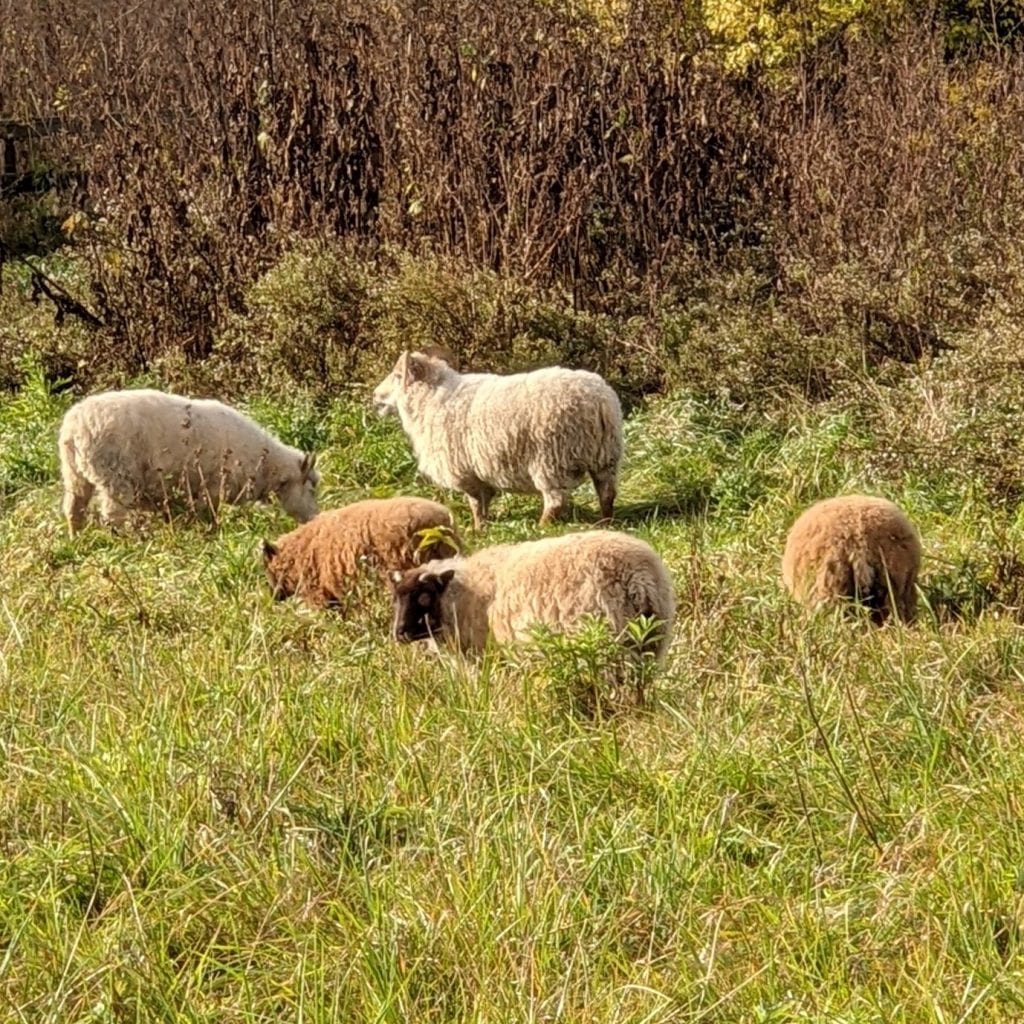 Mitten Acres
Lori and Jeffrey Washburn own a new, small, family-owned farm located in Milford, Michigan called Mitten Acres. They raise Nigerian Dwarf Dairy Goats and French Black Copper Maran chickens (the chocolate brown egg layers), with plans to add more animals as their farm expands. In the Spring of 2020, they began Dairy Herd Improvement Registry (DHIR) milk testing through Langston University in Oklahoma. They breed their goats for milking ability and show conformation, so placing their herd on milk testing came naturally to keep track of production, butter fat, and protein levels; earn milk stars through the American Dairy Goat Association (ADGA); and help aide with conformation, herd improvement, and genetics. The Washburns are excited to offer goat milk products soon. Rosie and Libby, two Mitten Acres Nigerian Dwarf Dairy goats, are pictured here.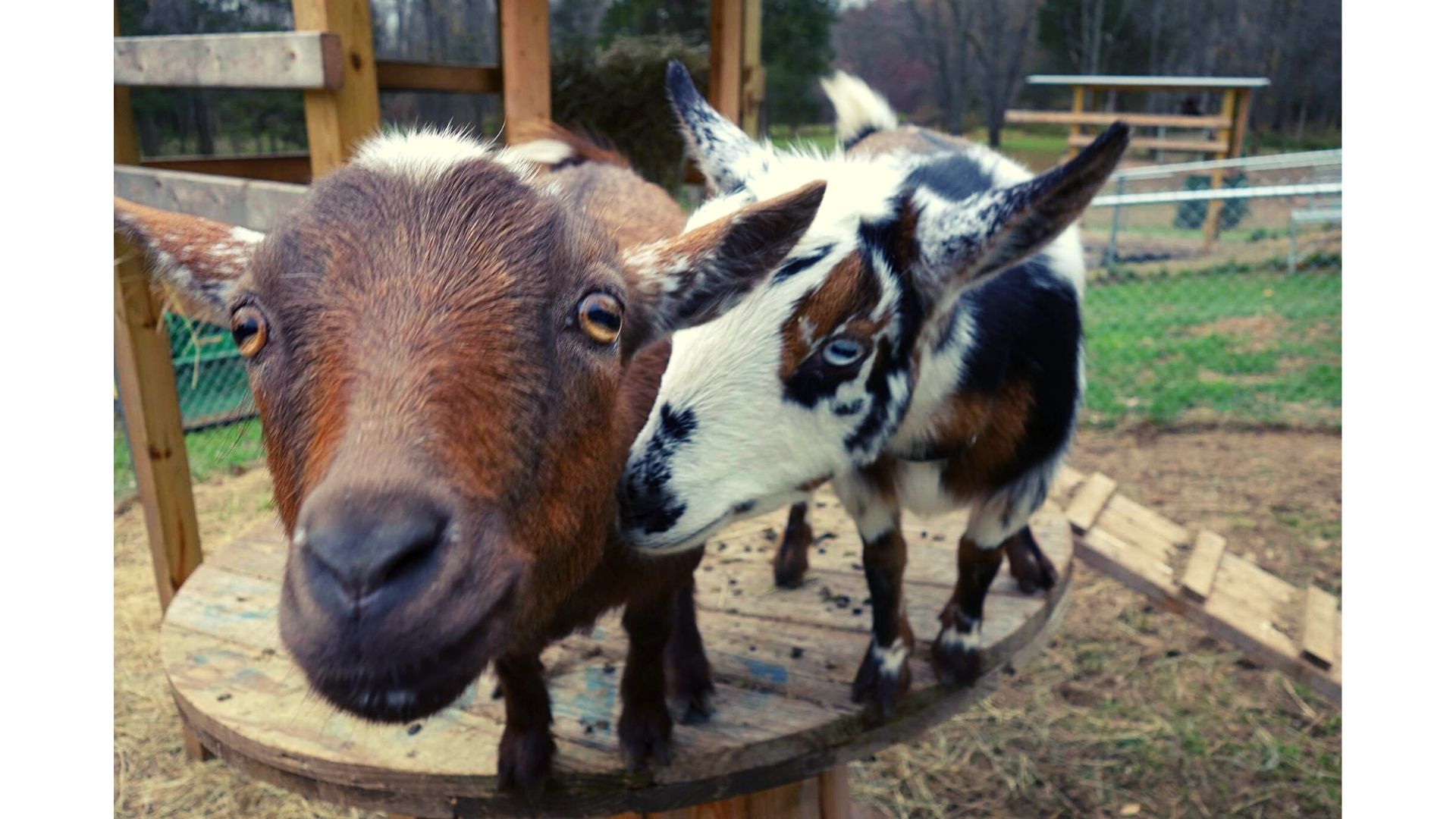 Winter Winds Farm
Jessica Konrath and Mark Farmer own Winter Winds Farm in Victor, Idaho. Jessica (pictured at right) fell in love with goats after snuggle sessions with baby goats near Washington, DC. The trip became an annual tradition with her friends as did educating them about goats, sustainable agriculture, and nutrition. Mark grew up in Cottonwood, Idaho and spent the last 12 years working in international education in Washington, DC. When they learned that Winter Winds Farm was for sale back in 2019 in Mark's home state of Idaho, they seized the opportunity, bought the farm, and moved from Washington, DC to Idaho. Before meeting Jessica, Mark never thought he would move back to Idaho to raise goats and make cheese, but her passion for goats and love of cheese is infectious. Winter Winds Farm provides locally-sourced and small-batch goat cheese, educates the community about goats and cheese and builds meaningful relationships with customers through sharing delicious cheese and hosting small-scale events and farm tours. The couple enjoys teaching everyone what goats have to offer the Teton Valley. Winter Winds Farm sells goat cuddle session tickets each spring and goat cheese at various farmers markets, stores, and restaurants around the Tetons.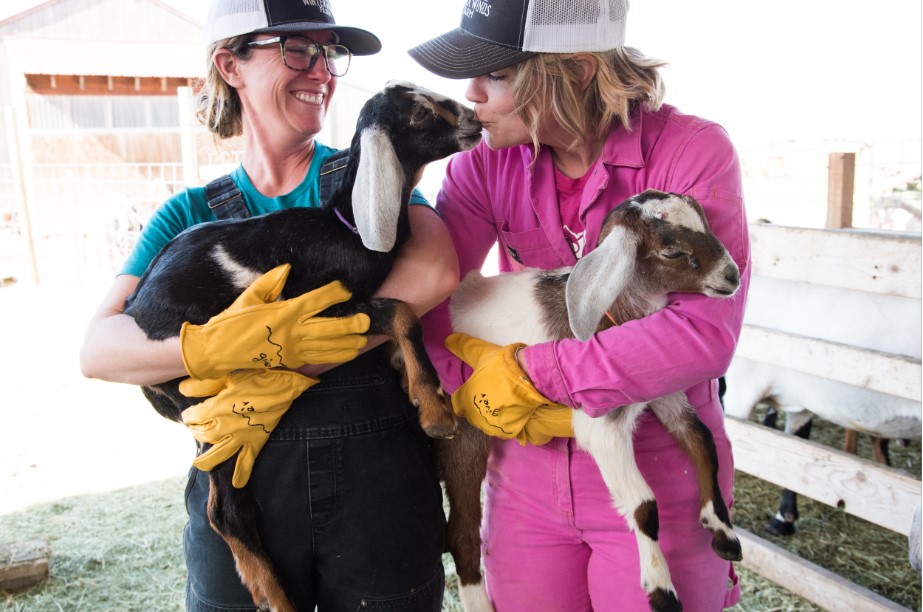 Membership
Thank you to all of our wonderful members! We are membership-based and couldn't do the work we do without you! Learn more about membership here.
If you're a member and would like to share your photos with us, email [email protected] for more details.
YOUR FUND AT WORK
Services provided by FTCLDF go beyond legal representation for members in court cases.
Educational and policy work also provide an avenue for FTCLDF to build grassroots activism to create the most favorable regulatory climate possible. In addition to advising on bill language, FTCLDF supports favorable legislation via action alerts and social media outreach.
You can protect access to real foods from small farms by becoming a member or donating today.