Every Monday is Member Photo Monday where we feature a member photo on our Instagram and Facebook pages. Farm-to-Consumer Legal Defense Fund (FTCLDF) is proud of our members, and we take great pleasure in highlighting their operations and the awesome work they are conducting in sustainable farming, animal husbandry, artisanal production, and homesteading. See below for a roundup of October's member photos!
Gordon Hadyk & Linda McWilliams
Gordon Hadyk and Linda McWilliams farm in Nashua, New Hampshire. While they always had some other livestock in addition to alpacas including horses, dairy goats, heritage breed poultry, and llamas, after the last recession they added heritage breed pasture pigs, a few cattle for 100% grassfed beef, 100% grassfed lamb, and 100% pastured goats. They also added a few miniature pigs for fun with Livestock Guardian Dogs to keep their farm and livestock safe, while allowing wild predators to live. Pictured here is one of their Idaho Pastured Pig families. In their spare time, they enjoy organic gardening, exploring alternative home-generated energy sources, and learning and applying low-input (zero petroleum) methods of renewing the land and pastures without herbicides, pesticides, or chemical fertilizers. They are thrilled to be living their dream of being in harmony with the environment, earning a good living doing something meaningful, while contributing to the future.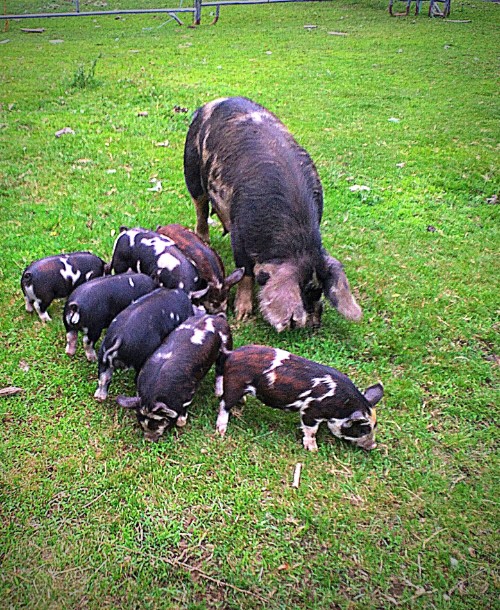 Clover Top Creamery
Mother-daughter team Hillary and Madison Horn own Clover Top Creamery outside of Charlottesville, Virginia. The Creamery began as a dream, combining Hillary's decades of restaurant and food service experience and Madison's years of caring for animals and love of microbes. In 2016 the Horns began building their herd of dairy goats, taking classes, and planning to convert an equine facility into a goat dairy and cheese operation. In 2017, they transformed the old hay barn on their family farm of 20 acres into a gorgeous top-of-the-line creamery. The Horns believe that great cheese comes from high quality milk and always work to showcase the unique terroir of their home. Their goats spend their days grazing and browsing the fields and nights in the comfy barn. They are proud to produce quality farmstead seasonal goat cheese and use solar power to power their dairy facility and barn! Keanu, a La Mancha, is pictured here, cheesin' for the camera.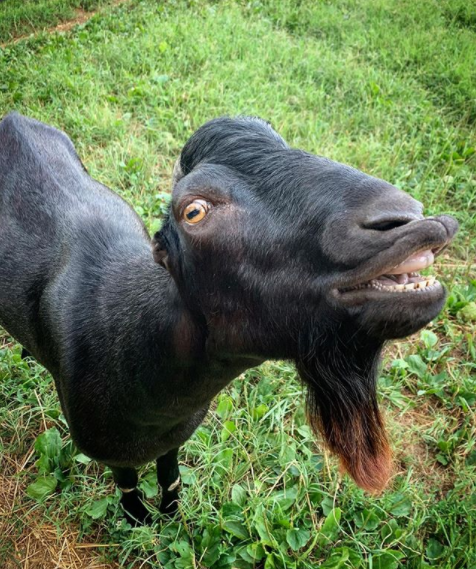 Provision Family Farms
Adrian and Rosanne Eising grew their own vegetables, kept bees, and were dreaming of ways to raise their own meat. Soon they had five cows on their land in Flushing, Michigan, followed by sheep, chickens, and turkeys. As the farm grew from a hobby to something more substantial, their son Luke and his wife Caitlin Eising moved onto the land to help. Luke and Caitlin were becoming inspired by Joel Salatin, growing their farm, and becoming passionate about growing food naturally. In 2012, they decided that they wanted to start profiting from farming, and after a year on the small farm, they all moved the whole Provision Family Farm to a more substantial 80 acres in Western Michigan. They are still producing healthy, natural meats and providing their animals and customers with good food for a good life. The photo shows multispecies grazing of the farm's cows, pigs, and sheep, which cuts down on pesticide load.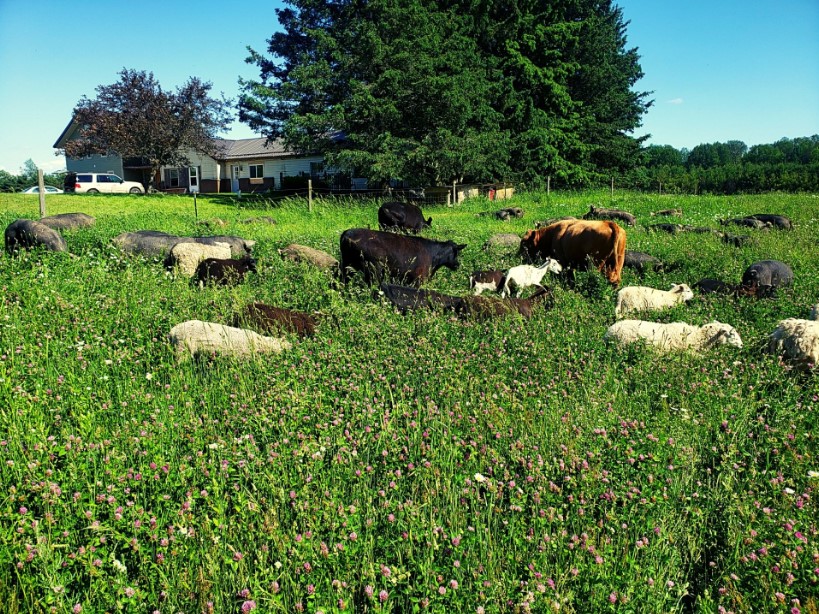 Sacred Blossom Farm
Tony DiMaggio is owner, CEO, and president of Sacred Blossom Farm in Mondovi, Wisconsin. He also manages wholesale accounts to 50 stores and packages most of the teas, but his favorite role is growing the herbs that go into the beautiful Sacred Blossom teas. After exploring the world; working at herb farms; and studying under a lifelong student of soil, plant, animal, and spiritual health; he started Sacred Blossom in spring 2016 on rented land at Crazy Rooster Farm. He grows Sacred Blossom herbs close together in dense polycultures so plant roots intermingle to mimic how medicinal herbs grow in nature, with competition, struggle, and companionship. Ugly herbs, browning bottom leaves and all stems go to the compost pile not into teas, unlike many other herbal teas, and it shows in the vibrant tea colors. Tony minimizes inputs and tractor usage, maximizes polyculture systems, inter-seeding strategies, intensive cover cropping and soil health strategies. Tony's goal is to grow only the very highest quality herbs and blend the best tasting and most effective herbal teas. Watch farm tour videos and order tea at SacredBlossomFarm.com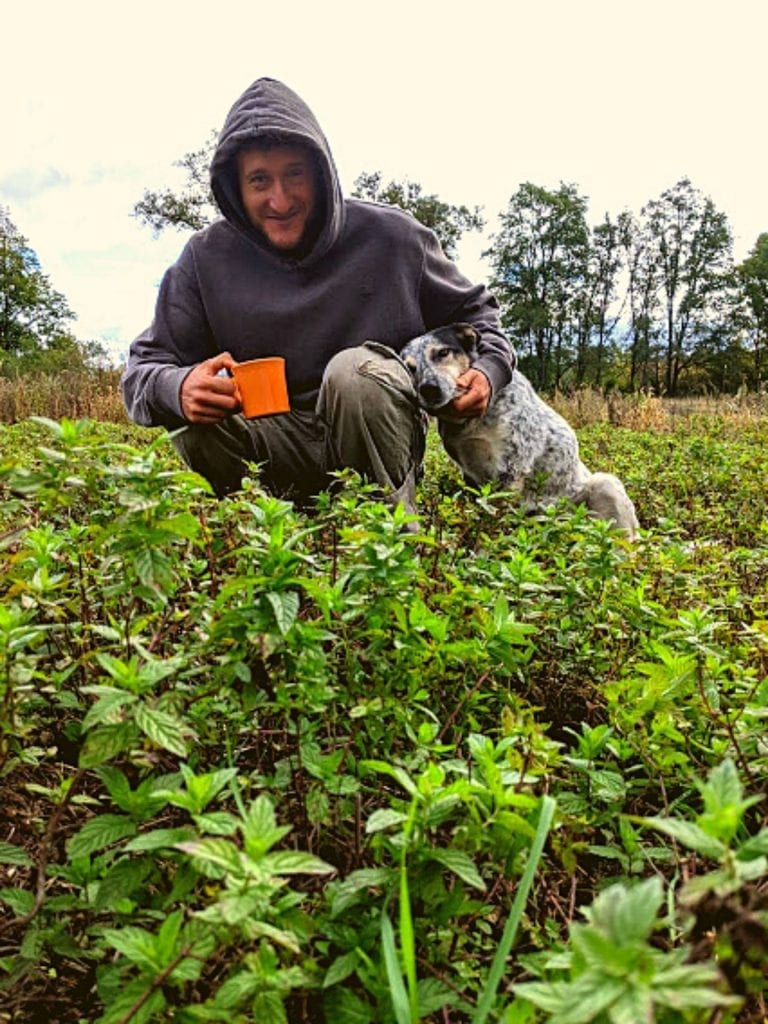 Membership
Thank you to all of our wonderful members! We are membership-based and couldn't do the work we do without you! Learn more about membership here.
If you're a member and would like to share your photos with us, email [email protected] for more details.
YOUR FUND AT WORK
Services provided by FTCLDF go beyond legal representation for members in court cases.
Educational and policy work also provide an avenue for FTCLDF to build grassroots activism to create the most favorable regulatory climate possible. In addition to advising on bill language, FTCLDF supports favorable legislation via action alerts and social media outreach.
You can protect access to real foods from small farms by becoming a member or donating today.