November 12, 2015
Thursday 6:00-8:30 p.m.
Anaheim Marriott Hotel
700 W. Convention Way
Anaheim, CA 92802
We invite you to join us on the eve of the 16th Annual Wise Traditions Conference for the FundRAISER reception to benefit the Farm-to-Consumer Legal Defense Fund in Anaheim, California.
Enjoy an evening filled with wonderful organic and local foods, such as:
Artisanal Cheeses display accompanied by Fig Jam
Local Honeycomb and Hearth Breads
Organic Crudités Featuring Late-Summer Harvested Cauliflower
Red Radish, Carrots, Celery and Snap Peas
Spinach-Ranch Dip
Sun-Dried Tomato Hummus
Beef Stir fry with Organic Onions and Peppers
Chicken Kabobs
Jamaican Jerk and more!
Executive Director John Moody and President Pete Kennedy will share the amazing progress FTCLDF has made securing and expanding access to real food and food rights across the nation, and the Never-a-Doormat Award will be sure to entertain and delight attendees.
Tickets are $85 for adults and $60 for children under 12 years of age
To register, click here or button below then scroll down to select "Thursday November 12 FundRAISER" under "Daily Conference Registration" category.

SPONSORSHIPS
Friend of Farm-to-Consumer ($3,000) – 15 tickets to the event , logo in the program
Friend of Food Freedom ($1,500) – 6 tickets to the event, logo in the program
Real Food Defender ($500) – 2 tickets to the event, logo in the program
Contact Us now to become a sponsor!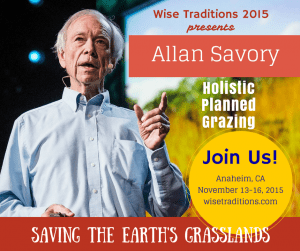 16th Annual International Wise Traditions Conference
November 13-16, 2015
Anaheim Marriott Hotel
Consider attending the entire Wise Traditions Conference with a full array of presentations, delicious meals, and even a children's program!
 Watch this video to learn more about the conference.
The conference runs Friday through Sunday with special workshops and events on Monday, including an enjoyable farm tour led by Will Winter.
You can attend the full conference or choose your day(s) and which meals to partake. Saturday night is the exciting annual awards banquet and the keynote speaker will be Allan Savory!

Cancellation Policy
Life happens, we know! If you need to cancel your registration, please send an email to [email protected] a minimum of two weeks before the event to be eligible for a refund, less a $10.00 administrative fee. After that time, no refunds are possible. If you need to cancel during the two weeks prior to the event, we encourage you to send a substitute in your place. Substitutions are always welcome.
Liability/Photography/Video Waiver
By registering and attending Farm-to-Consumer Legal Defense Fund events, you agree and acknowledge that you are participating in the events and activities of your own free and intentional will. You acknowledge this freely and knowingly and that you are, as a result, able to participate in said events and hereby assume responsibility for your own well-being. This acknowledgement includes your guest's participation in the events.
The Farm-to-Consumer Legal Defense Fund plans to take photographs during the 2015 events and reproduce them in educational, news, or promotional material, whether in print, electronic or other media, including the Farm-to-Consumer Legal Defense Fund website. By participating in the event, you grant the Farm-to-Consumer Legal Defense Fund the right to use your name and photograph for such purposes. All postings are property of the Farm-to-Consumer Legal Defense Fund.