Potentially the Biggest Sellout of American Sovereignty
Tell Congress to vote "NO" on the TPP!
International courts, acting at the request of private corporations, overturning the laws adopted by your elected officials. Does that sound like a good idea to you? Scarily, if the Trans-Pacific Partnership (TPP) trade agreement goes through, you'll see a lot more of this. Sign the FAX petition and CALL your U.S. legislators.


Update 10/8/15: View Latest Action Alert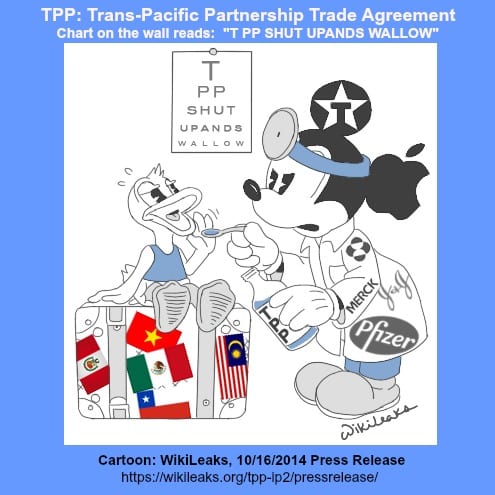 What Is the Trans-Pacific Partnership (TPP)?
The TPP is a new so-called "free trade" agreement negotiated between the U.S. and a dozen other Pacific Rim countries. But the reality is that the TPP is a permanent power grab by corporations that will make it impossible for the citizens of the TPP countries, including American citizens, to decide what laws and rules they want to live under. For instance, the TPP would disable the government's ability to regulate things like GMOs, pesticides, and food additives and would increase corporate control on the global food supply.
The secretive talks began under George W. Bush in 2008. During negotiations, little of the document was made publicly available, but what we did learn is disturbing. The TPP would go well beyond NAFTA in tearing down domestic laws of all kinds, from food to financial services. American manufacturers and farmers would suffer, while Wall Street banks would reap huge profits and companies would move more operations offshore. President Obama is also pushing a separate trade agreement with the European Union that includes very similar provisions.
What is Fast Track?
The bill to "fast track" the TPP and other trade agreements was filed by Representative Camp (R-MI) and Senator Baucus (D-MT). The legislation (S1900 and HB3830) was referred to as the Bipartisan Congressional Trade Priorities Act of 2014.
Backed by President Obama, "fast track authority" means that the president would be able to negotiate international trade agreements without oversight by Congress. Elected officials in Congress need to do their job and not abandon legislative authority to the executive branch. They need to take a good, hard look at the TPP instead of simply giving the president a blank check to negotiate away our domestic laws.
WHY WE OPPOSE FAST TRACK
1. Fast Track authority leaves the decisions on trade agreements in the President's hands alone. That's not how Congress is supposed to work.
2. Congress needs time to debate and amend trade agreements that affect all of us. Fast Tracking the TPP is undemocratic.
3. Both the Trans-Pacific Partnership and the U.S./EU Free Trade Agreement will harm American workers and consumers.
4. These agreements go far beyond free trade, and they would undermine our domestic laws.
5. The deals would increase the flow of dangerous fish imports from Southeast Asia, lower our consumer product and food safety standards, increase exports of natural gas to Japan, and undermine financial regulations.
6. Past trade agreements like NAFTA, CAFTA, and the U.S.-Korean Free Trade have benefited a few large companies while working class Americans have paid the price. Rural communities in particular have suffered increasing rates of poverty and food insecurity.


LATEST ACTION ALERT – 10/08/2015
ACTION ALERT
Tell Your Members of Congress to Oppose TPP!
Largest Trade Deal in History Heads to Congress!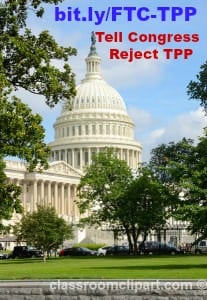 On Monday, trade negotiators finalized the text for the largest trade deal in history: the Trans-Pacific Partnership (TPP). While the public has been shut out of the process, massive multinational corporations have been deeply involved in developing the TPP and have crafted it to suit their interests.
Leaked documents have revealed just how terrible this trade deal is, including a provision that would allow companies to sue the federal, state, or even local governments over democratically enacted laws that they claim hurt their profits.
That means that if the TPP is approved by Congress, local initiatives like GMO labeling laws and Buy Local preferences could be challenged in international trade courts.
We've had two decades since NAFTA to see the results of free trade agreements that override domestic policy: lost jobs and lower standards. The TPP will take us even further down this failed path.
Now it's up to Congress to pass or reject the TPP. Once the clock starts ticking, we have about four-and-a-half months to stop this deal. This puts the final vote on the TPP right in the middle of the 2016 presidential primaries. The political spotlight created by the primaries gives us a fighting chance to stop this bad deal, but we need to speak up loud and clear.
Tell your members of Congress: Vote NO on the Trans-Pacific Partnership.
TAKE ACTION – CALL YOUR U.S. LEGISLATORS
Please call or email your U.S. Representative and both your U.S. Senators.
You can find who represents you:
Online: www.house.gov and www.senate.gov
By Phone: call the Capital Switchboard at 202-224-3121
Below is a sample message that you can use.
Remember to be polite as that helps to build good relationships with Congress.
Phone calls have a much greater impact than emails. If you send an email, please be sure to personalize your message by adding a couple of sentences at the beginning about who you are and why these issues matter to you.
I urge Representative/Senator _____ to vote "No" on the Trans-Pacific Partnership.

This agreement will undermine our domestic laws. Proponents of TPP claim that exports will help our economy, including our farmers. But these are the same claims that were made during the debates for NAFTA, CAFTA, and the U.S.-Korean Free Trade–and they have been proven false. Instead, a few large companies benefit, while working class Americans have paid the price. Rural communities in particular have suffered increasing rates of poverty and food insecurity.

I urge you to vote No on the TPP.
FAX Your U.S. Legislators FREE
6/22/15 – Stop Fast Track in the Senate (again): TPP threat cloaked in amended HR 2146; contact Senators
Fast Track Ping Pong – The Senate to vote on amended HR 2146 this week
11/18/14 – Tell Congress to Vote NO on TPP and Fast Track Authority for Trade Deals
https://www.farmtoconsumer.org/blog/2014/11/18/tell-congress-to-vote-no-on-tpp-and-fast-track-authority-for-trade-deals/
Petition Last Updated:
10/8/15 [5289] – TPP heads to Congress
6/22/15 [4373] – Senate HR 2146
Tell Congress to Oppose Any Fast Track Authority on Trade Agreements – FAX Your Senators
Msg: Vote NO on H.R. 2146 amended by the House. I urge you to vote NO on any bill that would grant Fast Track authority for the Trans-Pacific Partnership (TPP) and other trade agreements. Keep the proper checks and balances in our system.
6/17/15 [4340] – newspaper option
6/14/15 [3670/4340 Reps] – revote on TAA
6/11/2015 [2942 Senators & Reps] – House vote
4/22/2015 [1830]
Page shortlink: http://wp.me/P6f8DS-3C8