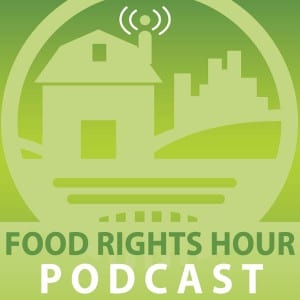 The podcast about • small-scale farmer, consumer, and producer rights  • effects of genetically engineered crops and foods • farm raids              • nutrient-dense traditional foods • homeopathy • raw milk laws               • sustainable agriculture and more!
Check out all episodes of the Food Rights Hour podcast.
Be among the first to listen to the podcasts! Subscribe in iTunes. Or Subscribe Now to the Food Rights News RSS feed for timely updates on the podcast and other food rights news.
The Food Rights Hour began as a radio show in 2010. Listen to the archives here.
Meet Your Dynamic Hosts:
Dennis Crowley is a veteran news anchor and public affairs specialist. He has over 36 years experience as a newscaster, announcer, news-writer and reporter. He has hosted many public-affairs shows in his career. He has worked on radio and television stations throughout the United States. He has also been a correspondent for news-networks in Canada, Australia and the United Kingdom. He holds a Bachelor of Science Degree in Communications from Pacific Western University in Los Angeles.
Listen to Dennis' Food Rights Hour episodes.
Dr. Kaayla Daniel, PhD, CCN, is The Naughty Nutritionist™ because of her ability to outrageously and humorously debunk nutritional myths. She is the author of The Whole Soy Story: The Dark Side of America's Favorite Health Food. A frequent guest on television and radio, she has appeared on The Dr. Oz Show, National Public Radio's People's Pharmacy and Discovery Channel's Medical Hotseat. As a clinical nutritionist, she specializes in digestive disorders, women's reproductive health issues, infertility, and recovery from vegetarian and soy-based diets. She is a Farm-to-Consumer Legal Defense Fund and Weston A. Price Foundation Board member and writes a blog for the Weston A. Price Foundation's website.
Listen to Kaayla's Food Rights Hour episodes.
Kimberly Hartke is the publicist for the Farm-to-Consumer Legal Defense Fund and The Weston A. Price Foundation. She blogs about food politics at Hartkeisonline.com and the raw milk issue at The Campaign for Real Milk.
Listen to Kimberly's Food Rights Hour episodes.
Pete Kennedy is an attorney in Sarasota, Florida and serves as the president of the Farm-to-Consumer Legal Defense Fund and vice president of the Farm-to-Consumer Foundation. Prior to and since the founding of these organizations, Pete has worked on raw dairy issues in various States as well as other food distribution aspects including extensive reviews of legislation, particularly food safety and raw milk bills. He also provides instruction on the legal aspects for Cow-Share College & Goat-Share University.
Listen to Pete's Food Rights Hour episodes.
Judith McGeary is the Weston A. Price Foundation's co-chapter leader for Austin, Texas. She is also an attorney, a farmer, and the Executive Director of the Farm and Ranch Freedom Alliance. The Alliance is a non-profit organization founded to protect the rights of independent farmers, ranchers, and homesteaders, and to help ensure the success of independent agriculture. Ms. McGeary has a B.S. in Biology from Stanford University, and a J.D. with high honors from The University of Texas at Austin. In her legal career, she has practiced administrative law, litigation, and appeals. She and her husband run a small farm with heritage poultry, sheep, cows, and horses.
Listen to Judith's Food Rights Hour episodes.