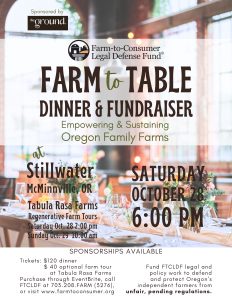 Farm-to-Consumer Legal Defense Fund has an incredibly special event planned in October! This unique farm-to-table dinner in the beautiful Willamette Valley of Oregon is a fundraiser that will support independent farms, and fight harmful, pending regulations that will affect Oregon's small farmers.
FTCLDF is holding a locally sourced, farm-to-table dinner and regenerative farm tour in conjunction with The Ground,an ecosystem of businesses connecting farms, food and people through loving hospitality, in McMinnville, Oregon. This special dinner event will be held at the beautiful Stillwater venue and feature locally-sourced ingredients and Willamette Valley wines.
Take this opportunity to obtain tickets to the dinner and optional farm tour and tell others you know about this event.
Things to know:
1) Your attendance helps fund our legal work to protect Oregon small farmers from pending unfair and burdensome regulations (more info on that below), and
2) Dinner seating is limited (capped at 130) as are Tabula Rasa regenerative farm tour spots, and
3) We have several sponsorship opportunities available.
"Empowering and Sustaining Oregon Family Farms"
a locally sourced, farm-to-table dinner
featuring Willamette Valley wines
Saturday, October 28, 2023, at 6 in the evening
Stillwater, McMinnville, OR

Monies raised from the dinner and farm tours will support FTCLDF's work providing legal representation and policy changes to support Oregon's independent farming community.
FTCLDF and its members are currently mounting a legal challenge against industry-backed and oppressive regulation aimed at treating small regenerative farms as harmful, concentrated animal feeding operations (CAFOs), which of course, they are not! 
Under the proposed regulations, even small livestock operations, such as horse farms, could be affected!
To Reserve Pre-Sale Tickets
To get tickets before they officially go on sale, please visit Eventbrite, or call our office during business hours at 703-208-3276.
Tickets for the dinner are $120 each.
Tickets for the Tabula Rasa Farms regenerative farm tour are $40 each.

Want to make a weekend of it?
Lodging is available at Tabula Rasa's Inn the Ground, Farmhouse and Yamhill House.
Sponsorship Opportunities
We have several levels of sponsorship available, including the "Presenting Sponsor." If you know of anyone who may want to sponsor this event, please Contact Us, and we'll do the rest!
In brief, the levels are as follows. Multiple sponsorship levels are available. Please contact [email protected] or call 703.208.3276 for a full sponsorship package. Or download it here.
PRESENTING SPONSOR: $20,000 (1 opportunity)
Naming opportunity and so much more
HARVEST SPONSOR: $10,000 – 2 Opportunities
FOOD FREEDOM SPONSOR: $5,000 (4 opportunities)
TABLE SPONSOR: $2,500 (4 opportunities)
OREGON FAMILY FARM SUPPORTER (Unlimited opportunities)
We welcome any and all donations! Please donate here, to support this effort in Oregon; add a note to your gift that you are supporting efforts in Oregon Against CAFO Regulations.
Farm-to-Consumer Legal Defense Fund is a 501(c)4 organization. Your donation is not deductible as a charitable contribution because donations are used, in part, for lobbying.