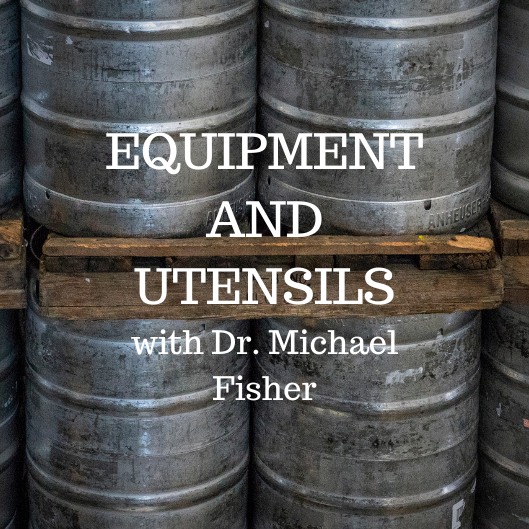 We are pleased that Dr. Michael Fisher has joined the FTCLDF website as a regular contributor. Dr. Fisher is a retired United States Department of Agriculture (USDA) Food Safety and Inspection Services (FSIS) veterinarian, bringing decades of experience enforcing FSIS regulations during the slaughter and processing of animals for which the USDA provides inspection services. Dr. Fisher is thrilled to bring you his expertise and guidance to help you navigate regulatory compliance. His goal is for small, USDA-inspected meat processors to succeed and to understand how to best maintain compliance and reduce regulatory issues.
Equipment and Utensils
Bob Dylan did not have the meat and poultry slaughter and processing industry in mind when he penned "The Times They Are a Changin'," but the song title fits this month's topic. Sanitation requirements for equipment and utensils found in the Bureau of Animal Industry sanitation regulations, first published as 7 CFR 8 in the 1938 Code of Federal Regulations (CFR), remain intact. But times have changed. Stainless steel and plastic have replaced cast iron, steel, and wood. Precision manufacturing methods have replaced manufacturing by hand.
Materials and construction still matter. Today's commercially manufactured equipment and utensils seldom run afoul of the 9 CFR 416.3(a) requirement to "be of such material and construction to facilitate thorough cleaning and to ensure that their use will not cause the adulteration of product." The most common encounter an official establishment should experience with 9 CFR 416.3(a) is the misapplication of the requirement to "be maintained in sanitary condition so as not to adulterate product" as synonymous with the 9 CFR 416.4 requirement to "be cleaned and sanitized as frequently as necessary to prevent the creation of insanitary conditions."
FSIS still requires access. Workplace standards enforced by the Department of Labor have virtually eliminated accessibility issues with equipment and utensils. Important is the fact that 9 CFR 416.3(b) does not require convenient access to equipment and utensils. FSIS Lock Out/Tag Out inspection policy exists because inconvenient access can create potential workplace hazards.
Edible versus Inedible
Separation of edible product and inedible material is still important. Receptacles used for storing inedible material must not result in inedible material coming into contact with edible product. Distinctively different receptacles for storing edible product and inedible material is still important. The 9 CFR 416.3(c) requirement for "conspicuous and distinctive marking" is not limited to the phrase "US Condemned," common on such receptacles. Edible and inedible receptacles of different color, size, or shape are equally "conspicuous and distinctive." The 9 CFR 325 marking requirements for receptacles used to transport inedible materials in commerce do not apply to receptacles used for storing inedible materials and edible product within the official establishment.
Times have changed. Modern manufacturing practices mitigate most 9 CFR 416.3 sanitation concerns. Establishments purchasing equipment and utensils from reputable suppliers mitigate most of their 9 CFR 416.3 regulatory risk. "The Times They Are a Changin'." It will be interesting to see what changes in equipment and utensil manufacture the next decade brings.
As always, if you have a question, please use the Contact Us link and ask.
Did you miss Dr. Fisher's previous posts?
YOUR FUND AT WORK
Services provided by FTCLDF go beyond legal representation for members in court cases.
Educational and policy work also provide an avenue for FTCLDF to build grassroots activism to create the most favorable regulatory climate possible. In addition to advising on bill language, FTCLDF supports favorable legislation via action alerts and social media outreach.
You can protect access to real foods from small farms by becoming a member or donating today.