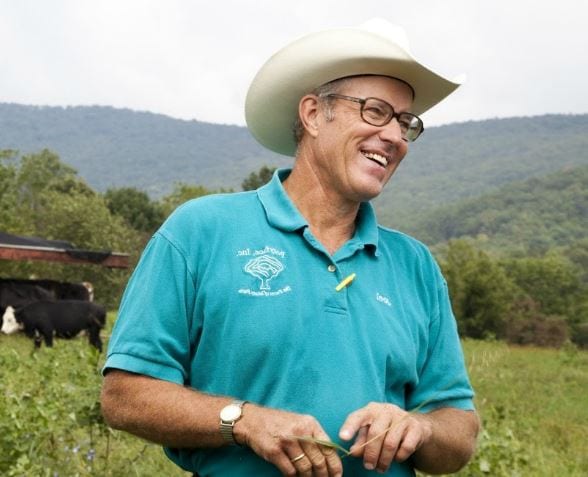 Joel Salatin
So far this year in at least seven states, legislators have introduced bills to allow unregulated direct sales of nearly all foods from producer to consumer. These bills are an effort to restore a way of life that existed in this country for the majority of its history. As Joel Salatin remembers, this type of commerce was thriving not that long ago in Staunton, Virginia.
During the Depression, farmers had food but no money. Urban folks had money but no food. In our nearby city of Staunton (today's population 20,000), the two sides got together and initiated a Curb Market. It was held Saturday mornings, inside, and provided a local nexus for rural and urban to interface over everything from live chickens to custard pies.
By the 1930s food regulations were already developing (Food Safety Inspection Service started in 1908) but a fairly blanket exemption existed for this direct trade. As regulations increased during the ensuing years, the regulators carved out an inspection exemption for the Curb Market if the patrons selling food that would normally be regulated were active members of what was at that time called a Home Demonstration Club.
These clubs were sponsored by the Cooperative Extension Service and provided the latest home food and fiber protocols from the land grant universities. Food safety, canning, sewing, gardening—it was all part of this vibrant food and fiber home-centric economy. After the Vietnam War made the word "demonstration" prejudicial, these club names were changed to the Extension Homemakers' Clubs. The Curb Market in its heyday was massive, with more than 50 vendors. It was the place to be on Saturday morning. Many farm families actually paid for houses and cash flowed to their farms with the value-added products they sold there. My wife's grandmother baked 30 pies every Friday in a Majestic wood cookstove. That money kept the family afloat during those lean years.
By the time I was 13 in 1970, the Staunton Curb Market had dwindled to two elderly matrons. They had never had a young teen want to sell at the market, so the powers that be negotiated and agreed that if I would join 4-H, which is under the umbrella and sponsorship of the Cooperative Extension Service, that would be equivalent to the Extension Homemakers' Clubs. The idea was that if you were a member of the government-sanctioned educational branch, you were interested in food safety, food science, and being careful.
I joined the 4-H Club and began selling there, continuing until I went to college in the fall of 1975. Here is what we could sell, with no registration, no inspection, nothing: yoghurt, kefir, butter, cottage cheese and any other cheese, buttermilk. On our farm, we milked a couple of Guernsey cows by hand, into a stainless steel milk bucket, and made all these products in our home kitchen.
I processed old laying hens in the backyard, cooked them in the oven, picked off the meat, and sold it in quart containers as pre-cooked, casserole-ready fare. It sold like hot cakes. We could field dress beef and pork (I mean shoot the animal in the field, skin it, and hang it in the barn like wild-harvested venison), cut it up, and sell it fresh. I still remember those beautiful fresh piles of round steaks and standing roasts. We could home-cure pork: bacon, ham, shoulder. We could sell all the pork-related broth-type products like scrapple, pudd'n, cracklin's, and ponhoss.
We could sell every kind of pie, pickle, canned product, and baked item you could imagine. One of the elderly matrons sold potato salad, and that's where my taste buds found their yen for sweet pickles. Although I didn't, I could have sold quiche, meat pies, jerky, salami, pepperoni.  The only prohibition was on fluid milk. But anything you could make from milk was fair game. You could sell any fresh meat, cured meat, meringue pies, canned goods, jams, jellies, pickles. We sold pickled beets, pickled eggs, and sauerkraut.
The market was open year-round, indoors, and operated from 6 a.m. until about 11 a.m. By my senior year in high school, I was selling 100 dozen eggs a week by 8 a.m. As I contemplated my future as a farmer, I realized I could hand milk 10 cows and make a comfortable living. Shortly after I closed down the stand and went to college, the two other ladies quit and the market closed forever. I often wonder what would have happened had I not gone to college, but stayed there, grandfathered, to enjoy the food revival just around the corner.
Amazingly, in such a free market, our food was often cheaper or at least competitively priced to the mainline stuff at the supermarkets. Half of our customers came for quality; half came for price. What an amazing nexus of diversity. To my knowledge, during the 5 years I participated in the market, we never had a single complaint about food safety, and not a single government agent ever came around, either to the market or to our farms. Sweet memories; sweet times. Sad that they are only memories. I say it's time for food emancipation, to bring back this kind of neighborhood interface. How about you?
YOUR FUND AT WORK

Services provided by FTCLDF go beyond legal representation for members in court cases.
Educational and policy work also provide an avenue for FTCLDF to build grassroots activism to create the most favorable regulatory climate possible. In addition to advising on bill language, FTCLDF supports favorable legislation via action alerts, social media outreach, and the online petition service.
You can help FTCLDF by becoming a member or donating today.


Anyone wanting to make a contribution to support the work of FTCLDF can make a
donation online
or send a check to:
FTCLDF
8116 Arlington Blvd, # 263
Falls Church, VA 22042
Prefer to make a tax-deductible donation? Donate online here.
You may also contact us by email at info@farmtoconsumer.org or call 703-208-FARM (3276). Thanks for your support.