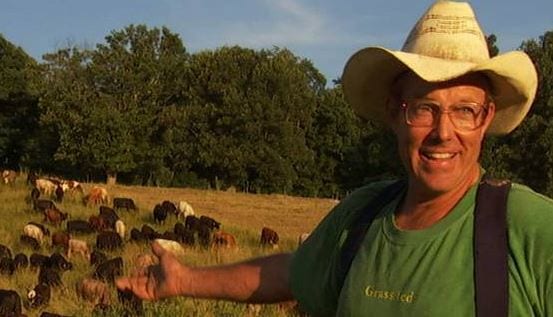 Joel Salatin and his Polyface Farm cattle
What follows is derived from a recent exchange between Joel Salatin and a reporter writing on the PRIME Act. Passage of the PRIME Act (the Processing Revival and Intrastate Meat Exemption Act—H.R. 3187) by Congress would give states the option to allow the sale of custom-slaughtered and -processed meat. Salatin explains how the PRIME Act will reduce costs for the consumer and increase choice while giving farmers new markets.
Who is hurt the most by the Federal Meat Inspection Act as it is now written? Is it the small farmer who has to travel hundreds of miles to the nearest USDA slaughterhouse?
Joel Salatin: The biggest loser in the current system is the consumer who wants affordable local meat options. Currently, that consumer needs to buy a whole animal at a time, or at least a quarter, which requires a huge amount of money and freezer space.
By allowing that same meat to be purchased piecemeal, from the same abattoir, the consumer can get it cheaper and in daily quantities. I think that while whining about the plight of small farmers is okay, it's not nearly as powerful as helping people realize how limited and expensive their choices are.
It is ridiculous to say that it's fine to buy $500 worth of meat but not okay to buy $10 worth from the same animal processed in the same facility. Ultimately, educating consumers about their lack of choice garners far more votes than getting them to feel sorry for small farmers.
Yes, the T-bone you see at a farmer's market is currently being processed under inspection, often at a non-community abattoir, a long distance away, and at extremely expensive costs.
With this bill, that T-bone steak may be 20-30 percent cheaper because the farmer likely can go to a neighborhood abattoir and pay far less for the processing costs. That's the impact, and it would be huge huge huge for consumers, not to mention local farmers.
So both ends of this issue are clear:
Consumer choice and affordability
Farmer marketing and income options
One is a push, the other a pull, but both stand to gain substantially if this were allowed. And the other thing that's important is that this meat is not being done at abattoirs that currently can't offer meat; the difference is that now you can only buy meat through these facilities at volume; with the PRIME ACT, you can buy it in small quantities. Same facility, same butcher, same freezer, same doors. The only people opposed to this are folks who have already invested in the expensive federal bureaucracy overhead. Sorry for them, but there are still plenty of protected markets for them:  institutions, supermarkets, export, etc.—that is big enough.
Philosophically, if they cry foul and complain about competition, they're assuming a lot of people (farmers or consumers) will exercise this new option. Clearly, if that is a legitimate fear, then they are admitting that the current system is indeed NOT serving either party well.
Either there really isn't a need for this, and it will just fizzle, or there is huge pent-up need for it. You can't have it both ways. So if there is no need, the current system need not fear the new competition or their investment protection; if it radically changes the way people buy meat, then to be opposed to it is to oppose choice and affordable food. The current protected industry has no philosophical high ground for opposition. Period.
Safety is not an issue. If you can buy $500 of meat at a time and it's safe, why can't you portion it out $10 at a time? The only consideration is volume increments allowable in the market. This should be stressed at every turn.
How does it save 20-30% using a local custom house versus using a USDA facility? What is the breakdown on the cost savings?
Joel Salatin: The difference in cost is primarily two things:
Overhead—the cost of providing the inspector with an office, separate bathroom (he/she cannot share with your employees) and other things add cost to capitalization and maintenance.
Paperwork—submitting Hazardous Analysis and Critical Control Point (HACCP) plans, keeping records on every animal slaughtered, checking boxes for temperature control, forms for clean-up, forms for start-up, forms for organ-check, forms for offal disposal, forms for labels—it never ends. All of this slows down the process and adds burdensome refereeing.
The bottom line is that the average difference in price for processing runs about 30 percent. This is the cost of trust. In other words, the folks who don't (either because they don't want to or because they don't have personal knowledge) trust their farmer or butcher, pay a government agent to sanction the meat.
If all the parties trust each other, then the whole transaction can save 30 percent. This amounts to a defacto tax on the integrity food system, which does not trust the government agent and doesn't want to pay for that trust. If I don't want to pay for that trust, why should I not be allowed to exercise my trust in another way, by investing research time, visit time, fellowship time, instead of paying cash to get trust from someone I don't even trust? That's whacky.
Help pass the PRIME Act. Call your representative and ask that she/he sign on as a cosponsor of HR 3187, if she/he hasn't already. Take action with our Action Alert here.
[White Paper PDF –http://bit.ly/PRIME-ACT] 
For inquiries, call 703-208-3276 or email [email protected]
YOUR FUND AT WORK

Services provided by FTCLDF go beyond providing legal representation for members in court cases. The Fund is not an insurance company and cannot guarantee representation on all legal matters; possible representation is just one of the benefits of membership.
Educational and Political Action Services also provide an avenue for FTCLDF to build grassroots activism to create the most favorable regulatory climate possible. In addition to advising on bill language, FTCLDF supports favorable legislation via action alerts, social media outreach, and the online petition service.
You can help FTCLDF by becoming a member or donating today.
Anyone wanting to make a contribution to support the work of FTCLDF can make a
donation online
or send a check to:
FTCLDF
8116 Arlington Blvd, # 263
Falls Church, VA 22042
Prefer to make a tax-deductible donation? Contact us by email at [email protected] or call 703-208-FARM (3276). Thanks for your support.