Farm-to-Consumer has received a number of calls this year from farmers who were victims of pesticide/herbicide overspray. Here, FTCLDF General Counsel Gary Cox offers advice on how to increase the chances of getting compensation for damages.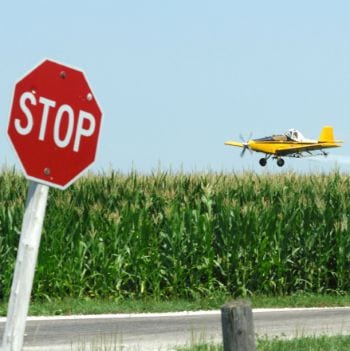 Being the victim of an overspray can ruin your whole day. One minute you are admiring your tomatoes, peppers and eggplants, or whatever it is that you grow, nurture and tend to; the next minute you see, smell and feel the drift of chemicals ruining your plants. What can you do? What steps should you take to improve the chances of recovering your loss? Yes, you do have recourse and there are immediate and subsequent steps you should take.
It is important to note that you have to be there to directly observe the overspray. Thus, this article does not advise on what to do if you do not personally observe the event. If you do not have personal knowledge of the incident it will be difficult to prove your case. However, if you do personally observe the incident here is what you need to do.
First, try to stop the event from happening in the first place. In other words, walk up to and speak to the applicator. Ask that person who hired them? What chemicals are they using? How many gallons? What dilution ratio of chemicals to water? What rate of application? Are they licensed by the State? Is it possible they can come back on a different day and time so the wind and weather conditions are more favorable? It is possible that the applicator will leave and not spray and thus you will have saved yourself from loss.
If the spraying does continue, however, then document as much as you can while the incident is occurring. This can range from taking a pen and paper and recording everything you see: date, day, time, weather conditions, degrees and directions of the compass to indicate where the spray is coming from, elapsed time, sequence of events, etc.—even use a smart phone to record the event. Focus on who the applicator is. Is it a boom sprayer being driven by a person or an airplane flying overhead? Get names. Company names. Airplane tail numbers. Type of equipment being used. John Deere? Serial numbers or model numbers? Be as specific as you can. How many nozzles–how far spaced apart are they? Height above the ground? What was being sprayed? What direction or path did the applicator take: north, south, degrees of the compass? How many turns did they make? Take pictures, videos, etc. and record as much of the incident as you can.
If you don't have the time to do so while the event is occurring, then immediately after the event is over, contact your State department of agriculture. Most States have a program that regulates the application of chemicals, herbicides, pesticides, etc. People who spray chemicals have to be licensed by the State. Contact that State program and report an incident. That State agency will then have a duty to investigate your report. Ask them to come to your farm and take samples of the plants that have been damaged. Ask them to take pictures (in addition to the ones you already took during the event) of the damaged crops. Ask them to keep you in the loop of their investigation. And always tell them that you want copies of any and all documents they generate as a result of their investigation of your complaint.
If you know the name of the company that performed the actual spraying, you can contact them and ask for the name of their insurance company. Tell that insurance company you want to file a claim for damages. Once the insurance company is involved, you have an opportunity to resolve the matter that is favorable to you.
Anytime you have contact with either the chemical applicator or their insurance company, take notes of each conversation you have. Indicate the date, time and day of the conversation, beginning and end times, and the name of the person you are speaking with. Then detail the substance of the conversation. Who said what? What was said? Use quotation marks if possible. Keep all of these notes of conversations you have.
You also need to keep track of your damaged crops as well. Take notes on their appearance; what do they look like? Vitality? Growth? Lack of growth? Pounds of production? Take pictures of the crops over time–first week after overspray, second week, first month, second month, etc. By documenting the condition of your damaged crops, you improve your chances of recovering your damages.
Finally, measure your damages. What was the value of your crops? How much could you have sold the crops for? Were they certified organic, or otherwise carried a premium? What volume of loss can you estimate? A bushel? A ton? An acre? Do you have customers who could provide an affidavit of what they would have purchased from you had your crops not been damaged? Measure your damages in terms of what the value of the crop was had all of it been sold, versus how much was actually sold.
By taking these steps, you should be able to improve the chances of recovering your loss as the result of an overspray incident.
YOUR FUND AT WORK

Services provided by FTCLDF go beyond providing legal representation for members in court cases. The Fund is not an insurance company and cannot guarantee representation on all legal matters; possible representation is just one of the benefits of membership.
Educational and Political Action Services also provide an avenue for FTCLDF to build grassroots activism to create the most favorable regulatory climate possible. In addition to advising on bill language, FTCLDF supports favorable legislation via action alerts, social media outreach, and the online petition service.
You can help FTCLDF by becoming a member or donating today.


Anyone wanting to make a contribution to support the work of FTCLDF can make a
donation online
or send a check to:
FTCLDF
8116 Arlington Blvd, # 263
Falls Church, VA 22042
Prefer to make a tax-deductible donation? Contact us by email at [email protected] or call 703-208-FARM (3276). Thanks for your support.