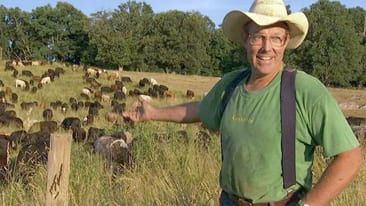 Joel Salatin opens the gates wide to Polyface each year to help FTCLDF raise money to help farmers in need. He's doing it again this year on September 8.
In fact, Joel knows only to well how FTCLDF attorneys can help.  In his five years as a loyal member, he's called on the attorneys' expertise THREE times to help Polyface wade through bureaucratic threats and hurdles. He says membership is the best investment he's made…after Polyface of course!
But on this special Saturday at his one-of-a-kind farm, we won't be talking about government nasty-grams, farm raids or overzealous bureaucrats.
We will be enjoying the beauty of an idea….a truly sustainable farm…. fully expressed, blessing its community with direct sales of food-to-live-for and providing an amazing education for tomorrow's young farmers.
If you've wanted to visit Polyface, and want to help farmers like Joel have a chance at living their dream, join us for this delightful almost-fall day at Polyface for a long, fascinating tour conducted by Joel himself and an al fresco lunch with the Salatin family, staff and interns. Partake of a smorgasbord of delicious Polyface pastured pork, poultry and grass-fed beef slow cooked with a recipe that's been in the family of Jed Shaner, Joel's friend and neighbor, for five generations. You'll get to enjoy a sampling of local wines and the immensely satisfying company of fellow change agents.
We're all in this together, and when we converge at Polyface, we get to celebrate what we're fighting for!