"This is the Maryland Department of Health and Mental Hygiene…please give me a call immediately in reference to your food operation, Grand View Farm."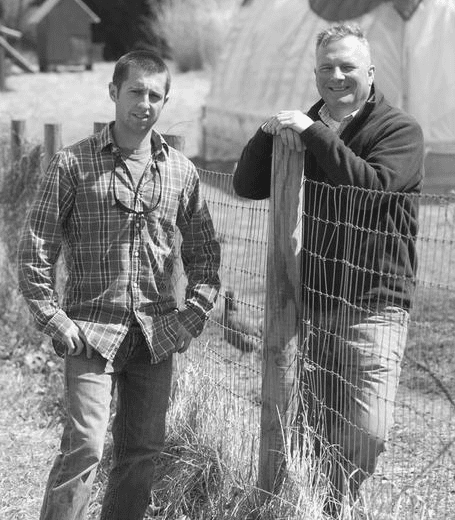 That's the voicemail that I listened to while making meat and egg deliveries to our customers for our small, Maryland farm.
It was a glorious autumn day, just a few months ago, right before the holidays: November 10th, 2015, at 12:28 p.m. Still driving our delivery truck, I prepared my thoughts a bit and returned his call. The government "official" told me that based on the pictures on our website, we were not in compliance with Health Department food facility standards and that he was going to shut us down.
This official was basing his actions on pictures from our website. He had no way of knowing our "facility" was covered, full of brand-new, professional poultry harvesting equipment and nonporous surfaces, intentionally positioned between a grove of trees and the barn to block the wind, and set up so that if there was a breeze, it blew from the "clean side" or finished side, to the "dirty side" or beginning of the harvesting process. But nevertheless, he was convinced that he was going to come to our farm to shut us down, especially because we had an open door policy and he would be there in an hour. I sternly explained to him that our open door policy applied to everyone except him or anyone that he sent to represent him.
After this he knew he was in for more than he bargained for from us "simple" farmers. Now, I put on a good show on the phone, but if I told you that I wasn't scared, I'd be lying. Intimidated, never, but worried, for sure. For someone from the government to come at our farm and family out of nowhere, making threats and demands, is not something that I expected to have to contend with as a farmer!
My next call was to my business partner and father, Wil. We agreed that the next call was to the Farm-to-Consumer Legal Defense Fund (FTCLDF) emergency hotline, available to all FTCLDF members like us.
I can't explain to you the relief I felt from the time someone picked up the emergency hotline on the second ring. They answered, listened to me, and then told me to call lead attorney Pete Kennedy right away. Whoa! To have a team like that on my side, I felt like we were going into battle together!
Mr. Kennedy was so calm, clear and laid out a plan right away; it was extremely professional and deliberate. Over the next few days, Mr. Kennedy took over our cause, reaching out to the Maryland Health Department and standing shoulder to shoulder with our farm. It was incredible. Working his seemingly legal magic, Mr. Kennedy forced the Health Department to back down in a matter of days, and we haven't heard from them again.
Now that we've been through it, we don't expect this to be the last time that something like this will happen with our farm. But if there is a next time, instead of fear we will only feel confidence, knowing that we have Pete Kennedy, John Moody and all of the good folks at the FTCLDF in our corner.
We choose to support the FTCLDF because they are exactly what our small farmers, processors, artisan producers, and consumers need, and they were there in our time of need with presence, professionalism, and power.
I encourage you—if you care about food produced with integrity—to support the FTCLDF today as we all work together to build a new, sustainable, and lasting food system.
Respectfully,
Nick & Wil Bailey, Grand View Farm

Your contribution helps farmers just like the Baileys at the most stressful time of their lives—when a government organization threatens to shut them down out of the blue—threatening their livelihood, their ability to provide for their family and their community that relies on them.
Each of us here at the Farm-to-Consumer Legal Defense Fund continues to work diligently to protect the farmers you love and rely on so that they can continue providing you with the food that heals your family and the land.
Our organization counts on your support through memberships and donations.
You can donate today at https://members.farmtoconsumer.org/donations

Our team is committed to keeping nutrient-dense food freely flowing in America. Your donation and support are what makes this possible. Put your money where your mouth is: protect our farmers and our food freedom. And check out this year's inspiring thank-you gifts!