Thank you for supporting the litigation, legislative and lobbying efforts of the Fund!
Three Easy Ways to Donate:
ONLINE: Start the online donation MEMBERS: Please login first to donate (this will consolidate all your transactions in one record)
(We accept Visa, Mastercard, Discover and American Express)
MAIL OR FAX: Download the Donation Form to send by mail or fax to:
Farm-to-Consumer Legal Defense Fund
8116 Arlington Blvd., #263
Falls Church, VA 22042
(703) 208-3278 (FAX)
PHONE: Call us to donate at (703) 208-3276 (Monday – Friday, 10 a.m. – 6 p.m. Eastern)
The Farm-to-Consumer Legal Defense Fund is a 501 (c)(4) non-profit organization. Donations to the Fund are not tax-deductible.
If you prefer to give a tax deductible donation, use this special link to the Farm-to-Consumer Foundation's Public Interest Litigation Fund.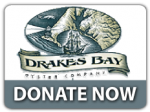 Click here to contribute to the litigation fund for Drakes Bay Oyster Company (DBOC)
Click here for information about DBOC's lawsuit against the National Park Service.